Let me just say this, I'm not a huge beef fan. But when it comes to soya... Oh man! I'm an obsessive fan! I'm obsessed with a lot of things. And yes, most of those things are food. Good food. At the end of making a Cameroonian soya video yesterday, I kept devouring the chunks of spicy grilled meat that were threaded on my skewer. And Mr N kept recording me in my moment of soya madness. I've told ya before, that man can't be trusted with a camera.

Soya is basically marinated meat that is threaded on skewers and grilled. It is called Soya in Cameroon and Suya in Nigeria. Similar versions of it are called Kabobs or Beef Satay. In French, It is known as Les Brochettes. It is a popular street food in a number of African countries. I'm here to show you that you could make soya right in your own kitchen. You could make this deliciousness with chicken, pork or beef. This post is all about how I make it with beef.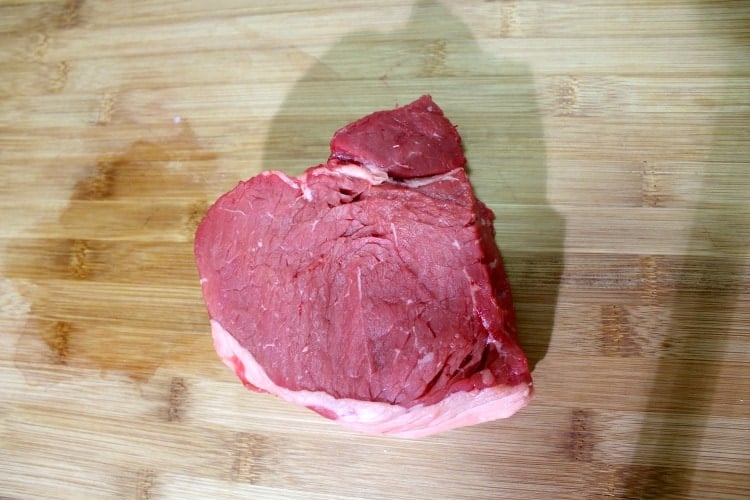 Now the cut of meat you use is very important. It has to be tender, juicy and easy to cut. I always go with top sirloin steak because after many trials, I discovered that this part just grills better than the other parts of beef.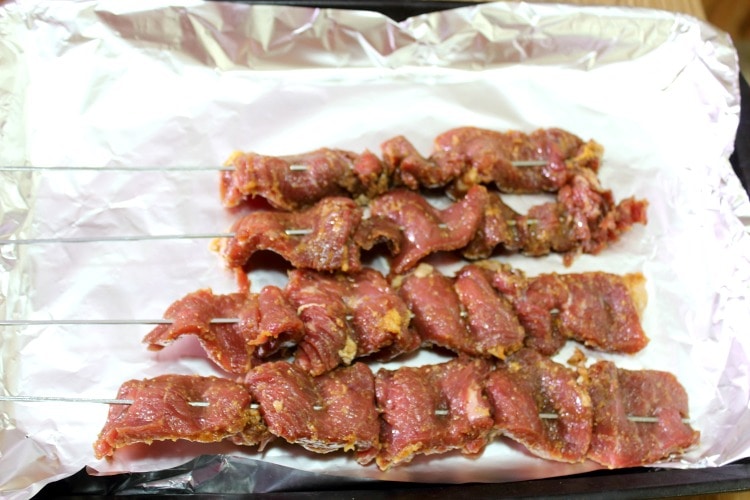 What makes great soya is a great marinade. I make an exotic marinade of ginger, garlic, white pepper, cayenne pepper, salt, Maggi and vegetable oil. Now the ginger and garlic could be fresh or dry (powder). But I used fresh here because that fresh aroma - unbeatable! I allow the meat to rest in the flavours of my magical marinade for a while before oven-grilling. The marinating time could be anywhere from 30 minutes to two hours.
Soya/suya is typically served with a powdery hot and spicy mixture which is made with cayenne pepper, ground ginger, ground garlic, onion powder, salt and Maggi. It is the signature spice blend of the Hausa men who typically sell the meat. However I served this one with some freshly made pepper sauce because it is equally as delicious!
Another thing you could add to your soya is some roasted and ground groundnuts (peanuts). I didn't add use that in this video but I've made soya like that before and it tastes/looks good. This recipe is so worth trying! You could serve this soya to guests, make it for a party (it flies off the table!) or just make it to enjoy at home. I love making it at home as a special treat for Mr N and the girls. You can too. It's not hard. Get into the kitchen and surprise yourself!
Please let me know how it goes when you try it. Check out the full recipe below!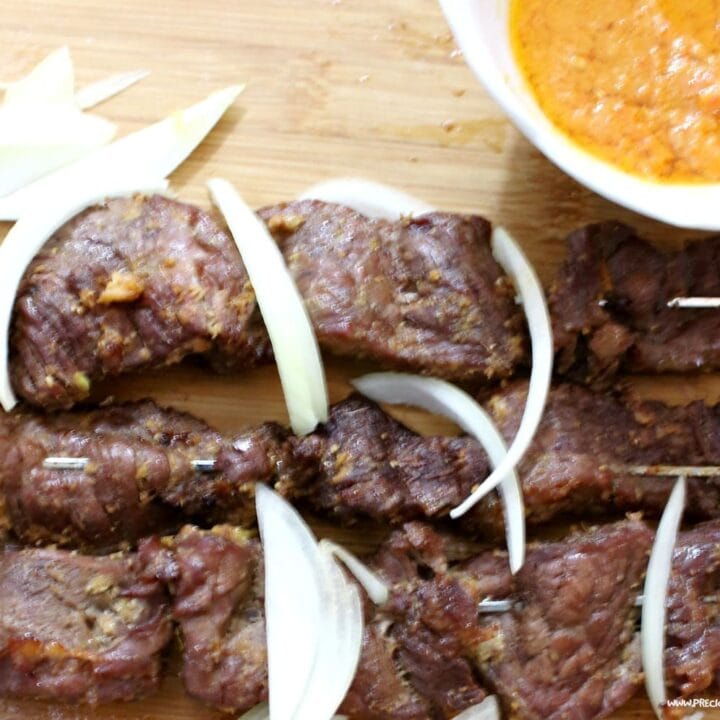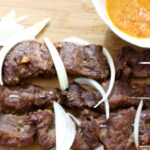 Cameroonian Soya
Soya is beef that is marinated is spices and threaded on skewers then grilled.
Ingredients
1

pound

beef - top sirloin steak (about half kg)

2

tablespoons

vegetable oil

4

garlic cloves- grated

½

inch

ginger root - grated

1

small seasoning cube- Maggi

¼

teaspoon

salt

⅛

teaspoon

cayenne pepper

⅛

teaspoon

white pepper
Instructions
If using wooden skewers, soak in water for 30 minutes before using.

To make the marinade: In a bowl, mix together all ingredients except the meat. Set aside.

Cut meat into thin slices (please see video).

Mix together the meat and the marinade making sure the marinade gets to every part of the meat. Cover and let it rest for 30 minutes.

Preheat oven to 400 degrees F. Thread the meat on skewers.

Place on a baking tray lined with aluminum foil and place in the pre-heated oven to cook for about 15-20 minutes. Half way through, turn skewers to the other side. This means one side will cook for about 7-10 minutes.

However, if you cut your meat a lot thinner than mine (as seen in the video) one side will cook for only about 5 minutes. It gets ready in no time! Avoid leaving the meat too long in the oven because it could become tough and hard to chew.

Remove, allow to rest and enjoy with some pepper sauce. You could also serve this with some roasted plantains.
If you make this recipe, please tag me in a photo on Instagram @preciouscore. I'll love to see!