This is the most phenomenal Challah Bread Pudding. My family chowed it down minutes after I made it. DO NOT skip the bread pudding sauce.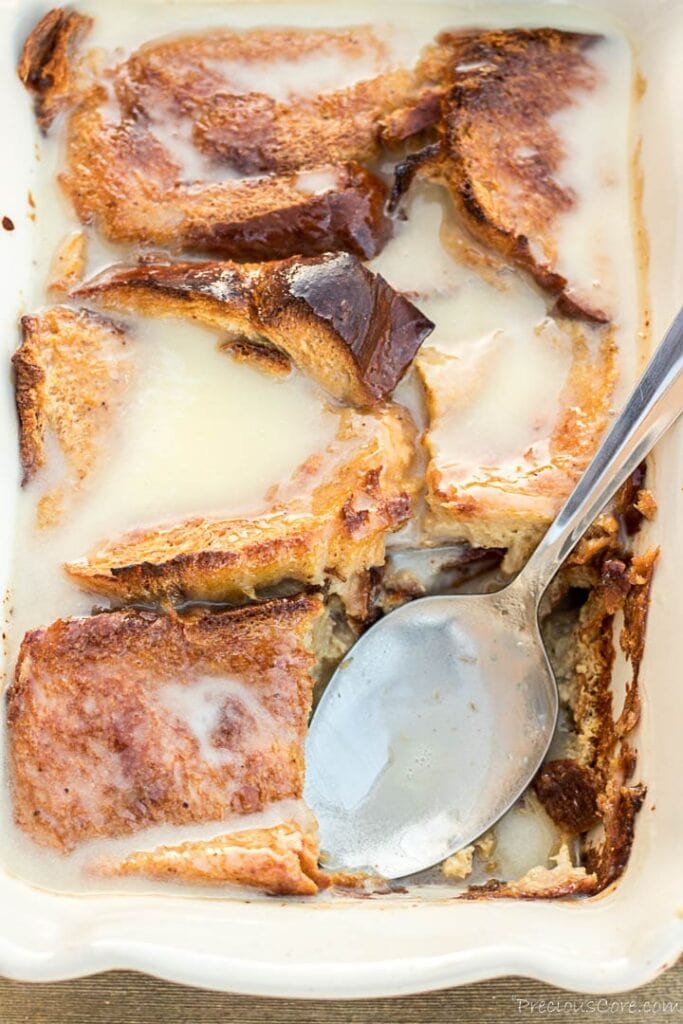 According to my husband, Mr. N., if a girl wants to get married, she should make this Challah Bread Pudding for the man she wants to marry. Do I need to say more? I think not!
What is Challah Bread?
Challah Bread, pronounced "hallah" is a traditional spiced braided Jewish bread that is made for special occasions. Challah bread contains a lot of eggs so it is incredibly rich.
Why Make Bread Pudding With Challah Bread?
Challah Bread is a rich bread and using it for bread pudding makes for a bread pudding that is incredibly rich. It is a great foundation for the best bread pudding.
What is Bread Pudding?
Bread Pudding is a dessert that is made by soaking bread in eggs, milk, sugar and sometimes spices then baking the mixture to form what is known as bread pudding. It is mostly served with a buttery sauce.
Making bread pudding is a great way to use up stale bread because stale bread soaks up the egg-milk mixture better than fresh bread.
Bread Pudding can be either baked in a large bowl then cut and served or baked in ramekins for smaller or individual servings.
Apart from being a dessert, bread pudding is great for breakfast! It is also great to make ahead. Soak the bread in the egg-milk mixture and place it in the fridge overnight then simply put in the oven to bake the next morning.
What Does Bread Pudding Taste Like?
Bread Pudding tastes like french toast. It is slightly crispy around the edges and dense on the inside. It is so good!
Ingredients for Challah Bread Pudding
Challah bread
Eggs
Evaporated milk (sub with whole milk)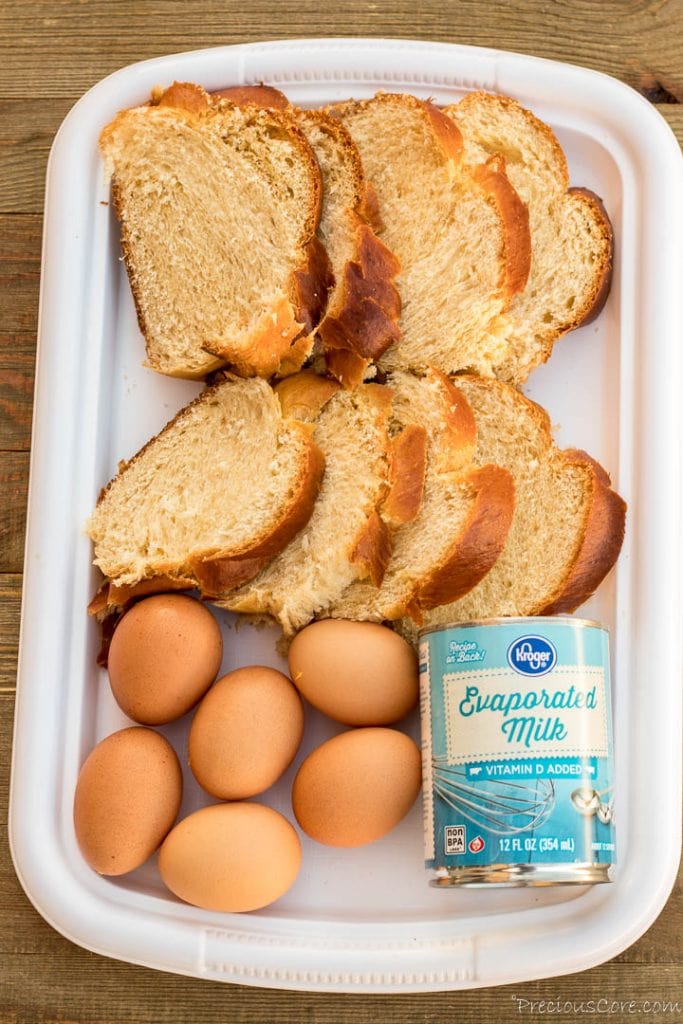 Sugar
Vanilla extract
Ground Cinnamon
Ground nutmeg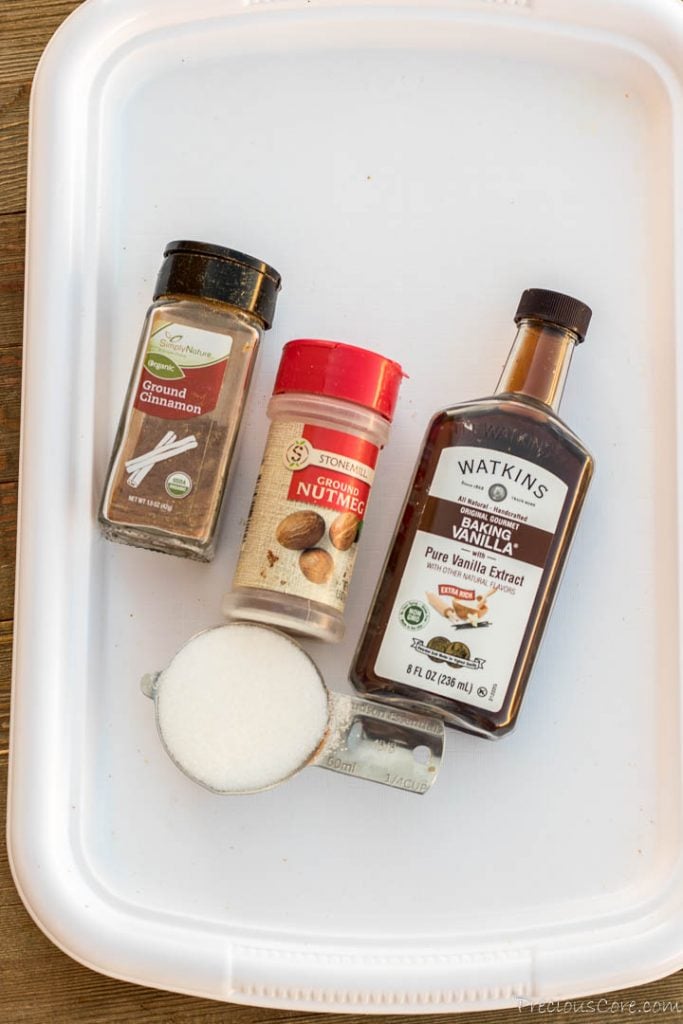 How to Make Challah Bread Pudding
First, arrange slices of Challah Bread on a baking pan. You can cut the slices into 1-inch cubes if you prefer. I make it that way sometimes but I was feeling extra while shooting this recipe so I left my slices big.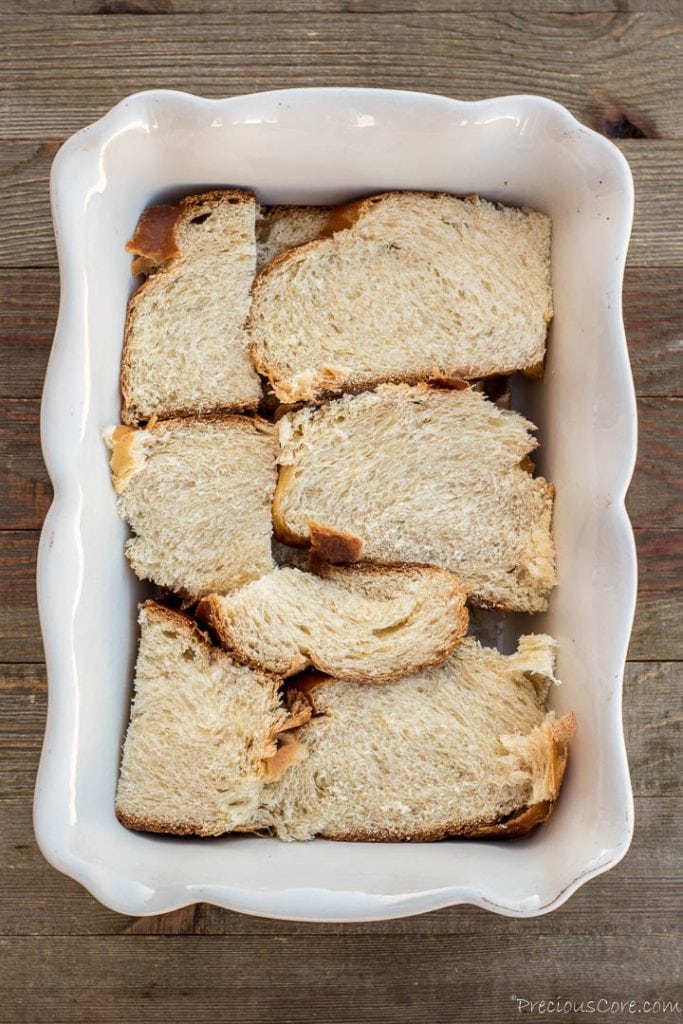 Secondly, whisk together eggs, milk, sugar, cinnamon, nutmeg, and vanilla extract.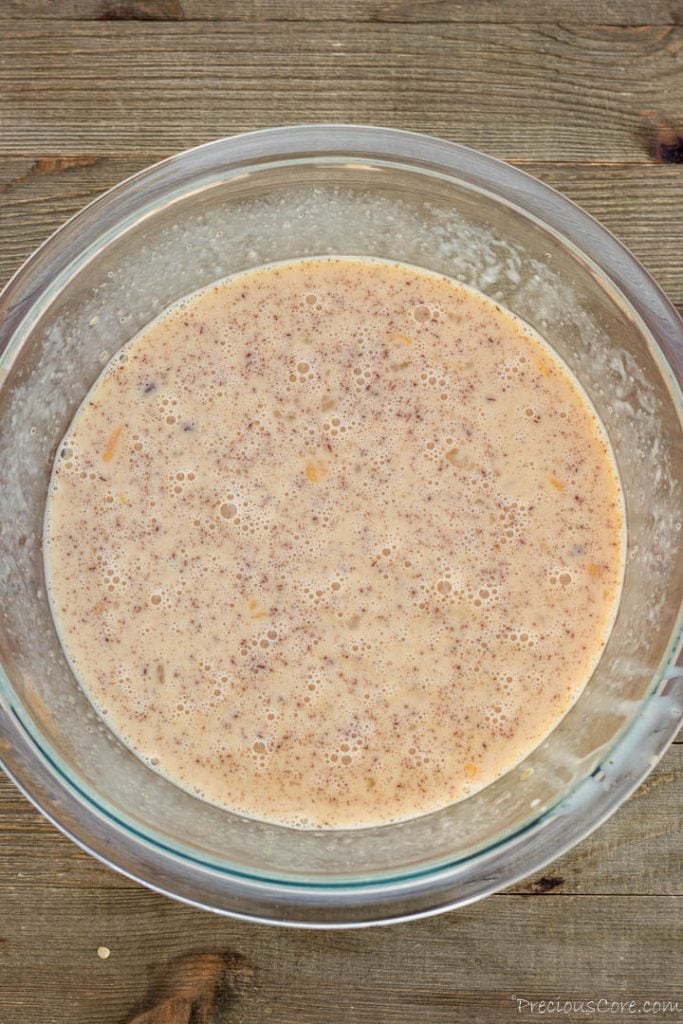 Thirdly, pour the egg mixture all over the bread. It will look like a lot of liquid but don't worry, the bread will absorb all of that goodness.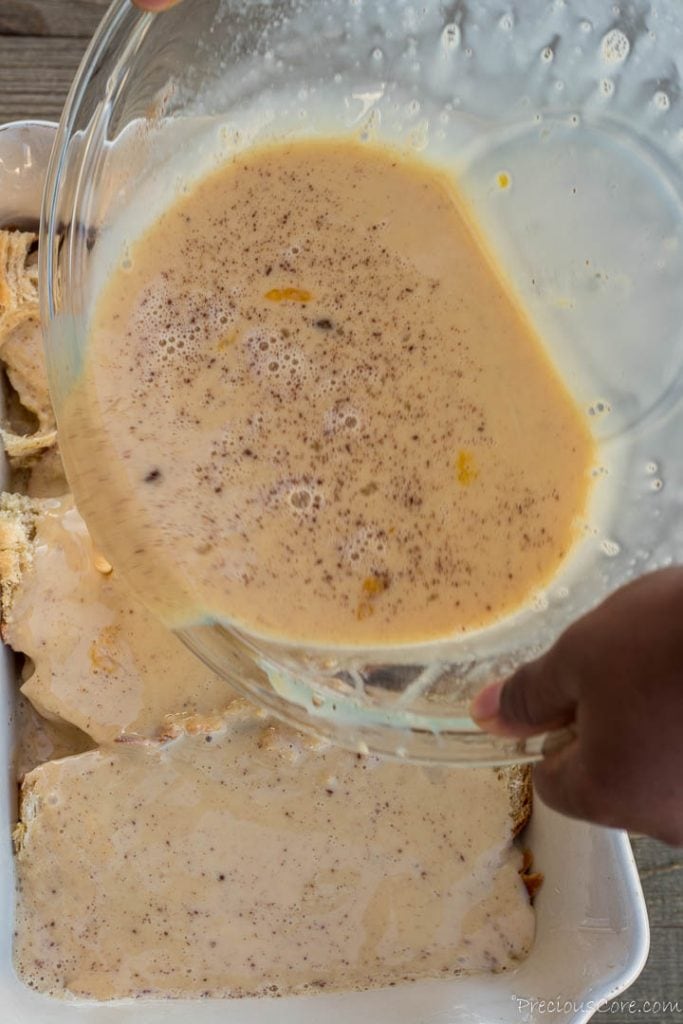 Now let the bread sit in the mixture for about 5 minutes so it can absorb all of that goodness. While the bread rests, preheat your oven to 375 degrees Fahrenheit (190 degrees Celsius).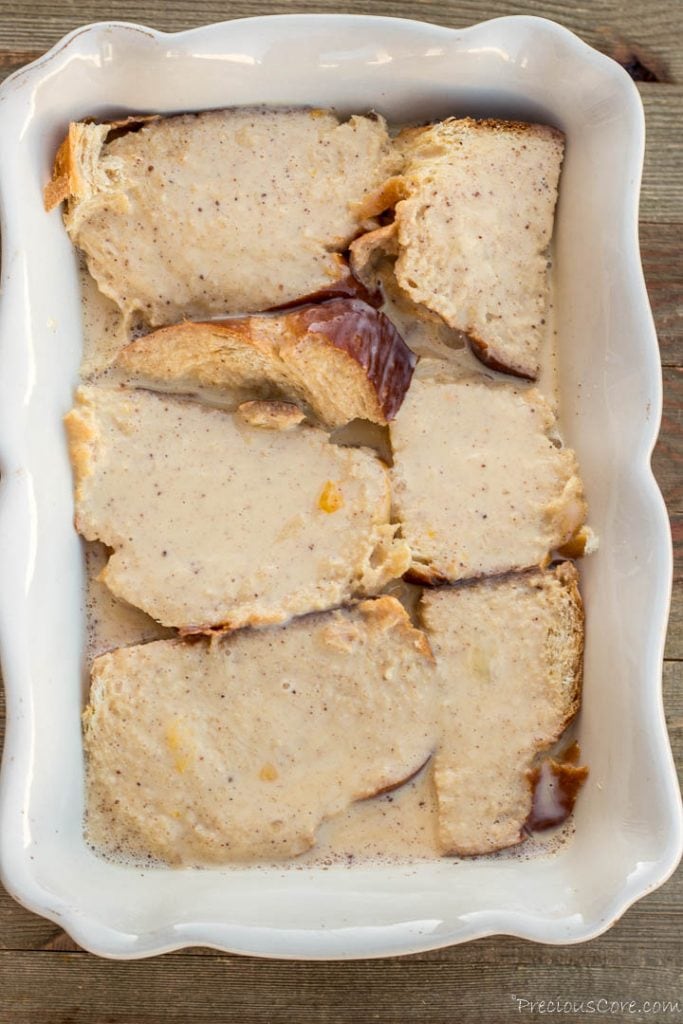 Place the bowl into the oven and bake until it is puffy, golden on top and a toothpick inserted in the middle of the bread comes out clean or just a little sticky.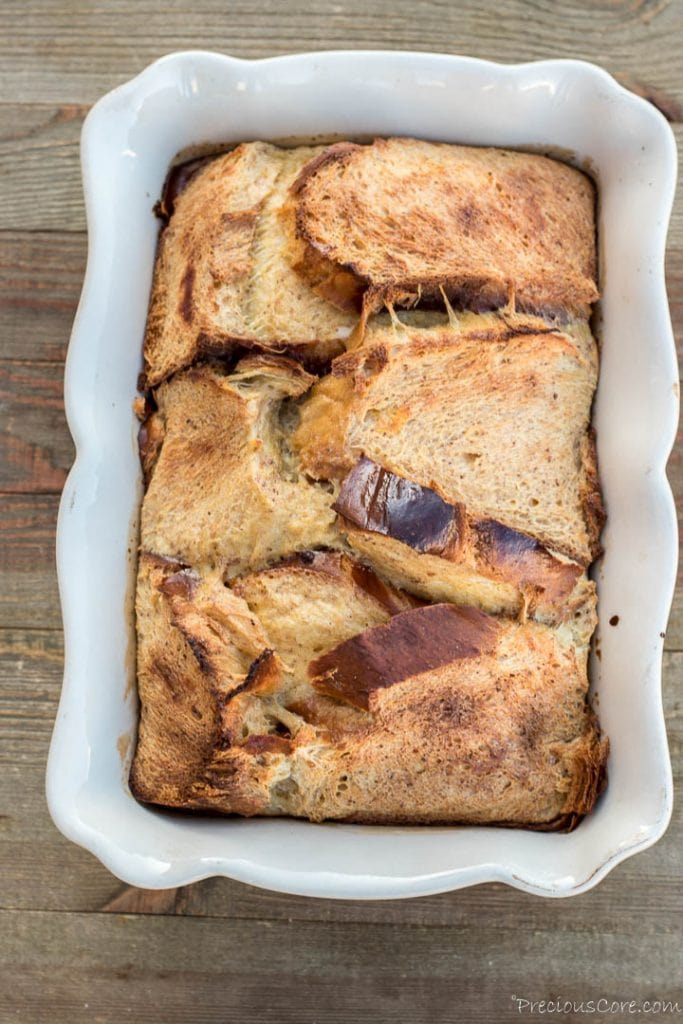 Now here is what you need to know: your bread pudding will come out looking all puffy. BUT it will gradually sink. Do not worry, this is normal.
Once your bread pudding is out, pour Bread Pudding Sauce all over it.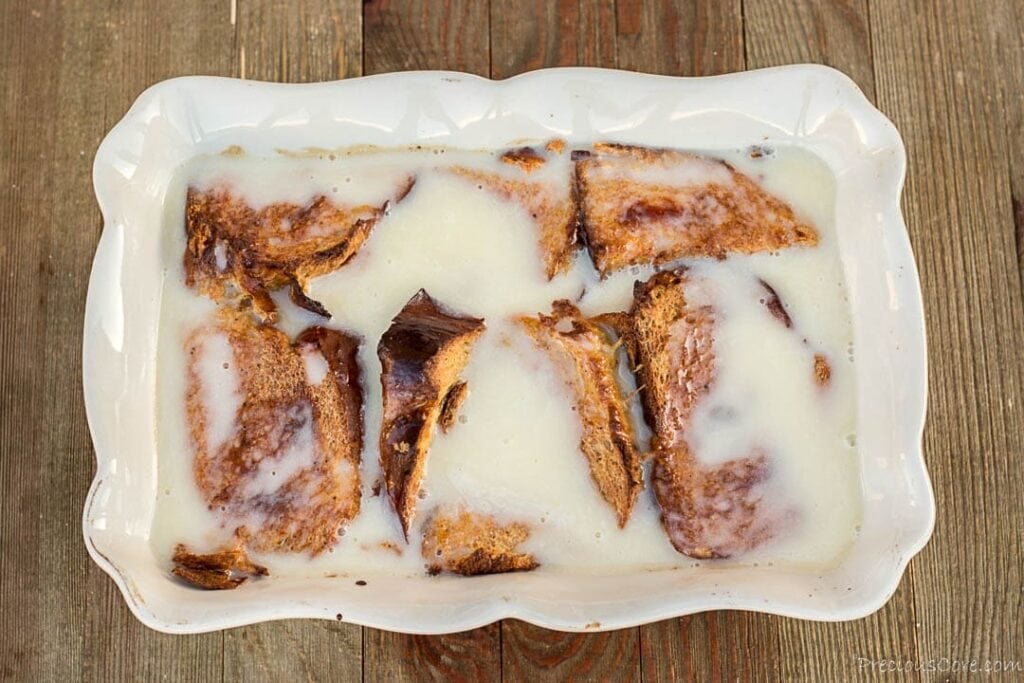 I created a separate post for the Bread Pudding Sauce because that sauce is royalty. It deserves its own blog post on the blog. Here is how to make the most phenomenal Bread Pudding Sauce.
Can we talk? Here is one of those posts where I get all bossy and order you to make it! This Challah Bread Pudding is a MUST MAKE.
If you do not have Challah bread, substitute with another bread and make some. It is rich, comforting and just brings the family together in a good way.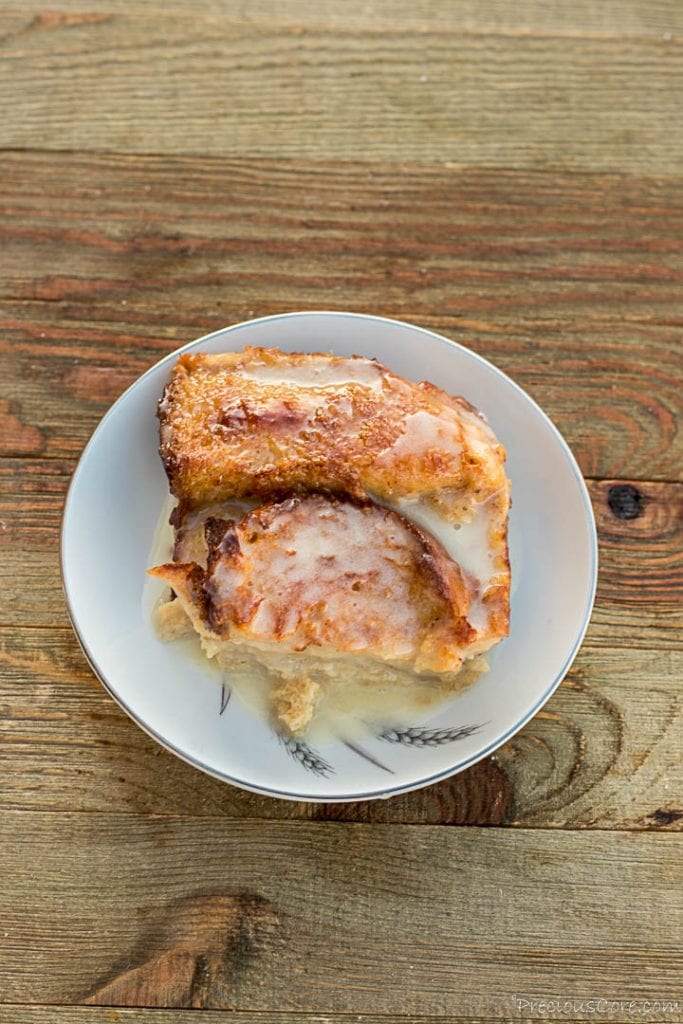 Also, this bread pudding is great for entertaining. Let it bake away while your guests savor the main dish. Then whip it out for dessert like the rock star that you are.
You could make the sauce beforehand and simply warm it up and pour over the bread pudding before serving. A scoop of ice cream on each serving won't hurt either. I am just saying!
This bread pudding is as hearty as Malva Pudding. So if you love desserts like this, also check out Malva Pudding recipe.
If you make this recipe, don't forget to rate it below. I love hearing from you guys!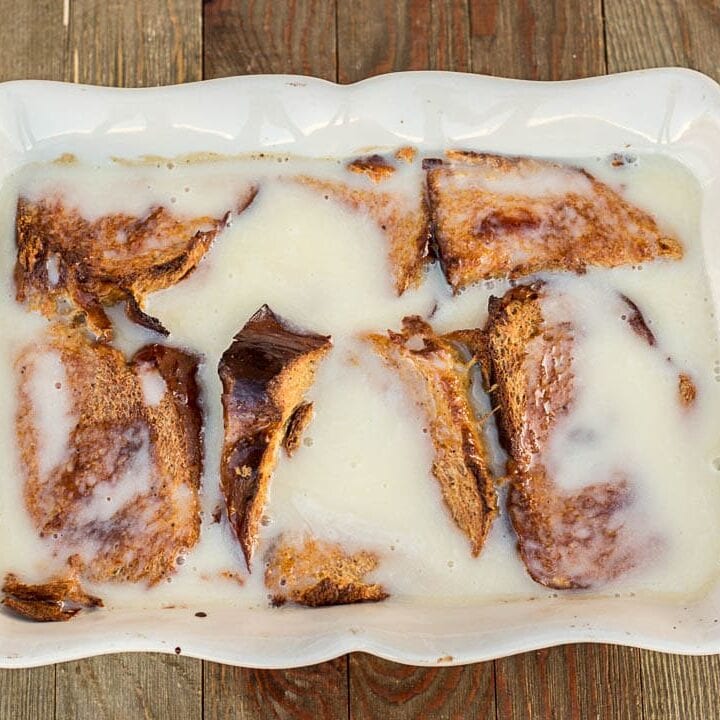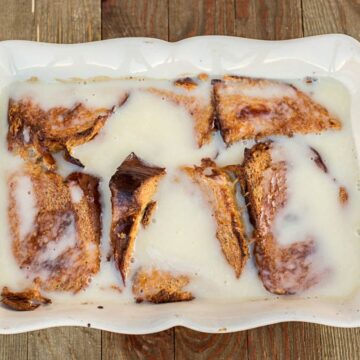 Challah Bread Pudding
This is how to make the best bread pudding ever with Challah Bread. Comfort food at its best!
Ingredients
8

slices

challah bread

1/2 inch thick

6

large eggs

12

oz

evaporated milk

substitute with whole milk

1/4

cup

sugar

1/2

teaspoon

cinnamon

1/2

teaspoon

ground nutmeg

2

teaspoons

vanilla extract
Instructions
Arrange the bread in an 8 by 8 baking pan or 2.3 quart baking pan like I did.

Crack eggs into a large bowl then add the milk, cinnamon, nutmeg, vanilla and sugar. Whisk them together to combine.

Pour the egg mixture all over the bread and let it sit. While it sits, preheat oven to 375 degrees Fahrenheit (190 degrees Celsius).

Place in preheated oven and bake for about 30 minutes until puffed up and a toothpick inserted in the middle comes out clean.

Pour bread pudding sauce over the bread pudding and let it sit for 5 minutes before cutting in and serving.
Notes
1. Bread pudding puffs up as it bakes but when you take it out the oven, it gradually sinks. This should not alarm you. It is normal and caused by the egg inside.
2. Do not skip the bread pudding sauce. The bread pudding needs the sauce. Here is my bread pudding sauce recipe.
Nutrition
Calories:
260
kcal
|
Carbohydrates:
37
g
|
Protein:
12
g
|
Fat:
6
g
|
Saturated Fat:
2
g
|
Polyunsaturated Fat:
1
g
|
Monounsaturated Fat:
2
g
|
Trans Fat:
0.01
g
|
Cholesterol:
151
mg
|
Sodium:
297
mg
|
Potassium:
250
mg
|
Fiber:
1
g
|
Sugar:
12
g
|
Vitamin A:
458
IU
|
Vitamin C:
1
mg
|
Calcium:
193
mg
|
Iron:
2
mg