Chicken Meatballs
Published Jun 09, 2019
Updated Aug 22, 2023
Chicken Meatballs are savory with a bit of spice, perfectly juicy and taste fried even though they are baked! They are paired with a luscious velvety tomato sauce. The complete chicken meatballs with spaghetti meal can be cooked in under an hour. Winner!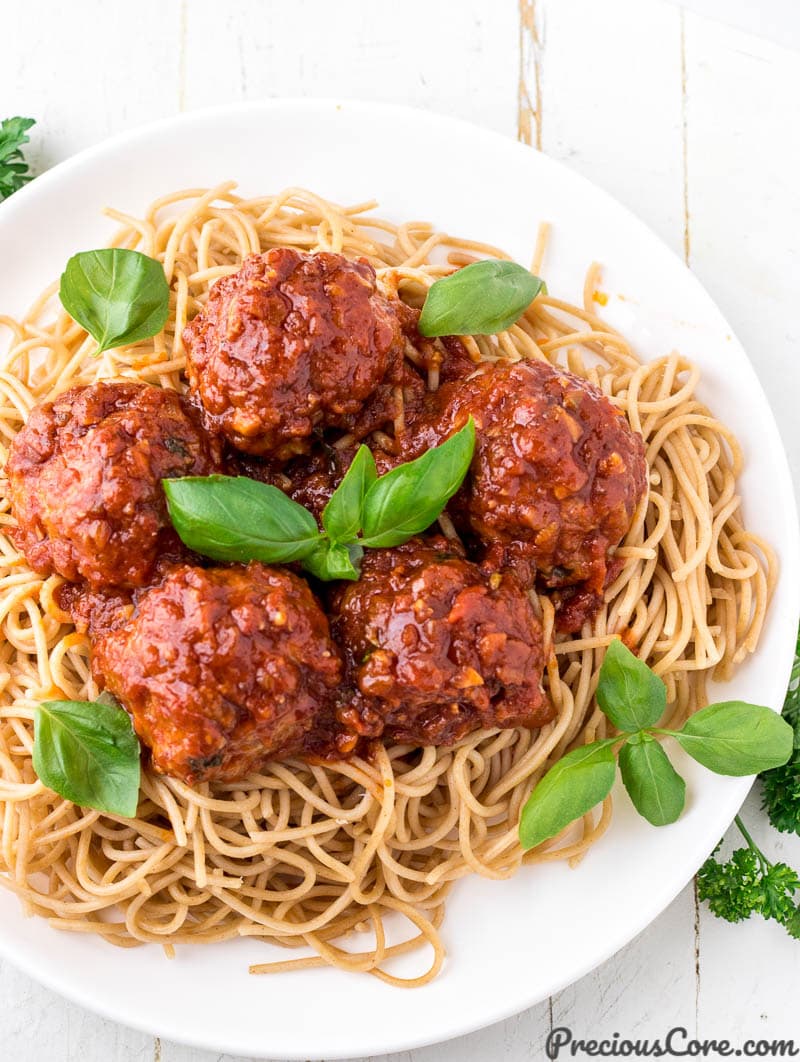 You've probably heard me say this countless times and I will say it again. I love quick and easy meals! I always feel like I have won a jackpot when I come up with an easy meal I can whip up in no time. That way, I can pay more attention to other important things like baby snuggles and answering the endless questions my kids ask. 🙂
Chicken Meatballs are the latest addition on my list of "quick meals which taste so gourmet but are so easy to make!" They are right at the top on my list of favorite quick family-friendly dinners together with pan-seared tilapia, African peanut soup and chicken in white sauce.
Look, friends, you do not need hours and hours in the kitchen to make a great meal. The simplicity of these Chicken Meatballs recipe is here to prove that.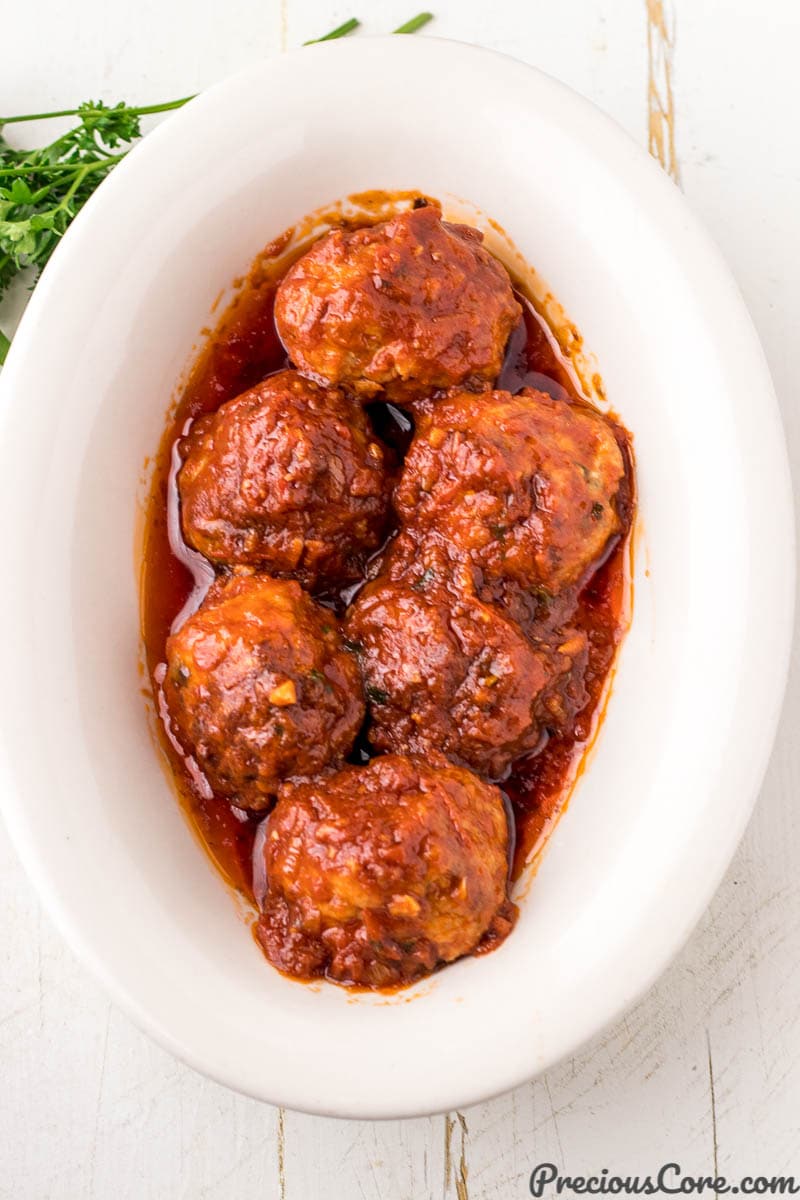 How To Make Chicken Meatballs
1. First, place some breadcrumbs and liquid milk in a large bowl. The breadcrumbs and milk create the base for perfectly juicy chicken meatballs!
2. Once the breadcrumbs absorb the milk, add in ground chicken, a large egg, onion powder, garlic powder, chicken bouillon powder, salt crushed red pepper flakes, and freshly chopped parsley.
I use onion powder and garlic powder instead of the fresh versions because this is a quick recipe. The onion and garlic powder taste very good! Also, if you do not like chunks of onion and garlic in your meatballs, using dried onion and garlic will help you avoid that.
3. Once all the ingredients are in the bowl, mix everything until just combined. Use an ice cream scoop to scoop out perfect balls then lightly (applying very little pressure) mold the balls with your hands into meatballs. You can see how I do that in the video.
4. Once all the chicken meatballs are formed, bake them in a 450 degree Fahrenheit oven for 30 minutes.
The meatballs turn out brown, so tasty and perfectly juicy. The meatballs are not unpleasantly dry thanks to the milk and oil!
Now you could serve the chicken meatballs as they are as an appetizer or snack. OR you can do what I did: go ahead and make the most delicious tomato sauce to soak the meatballs in.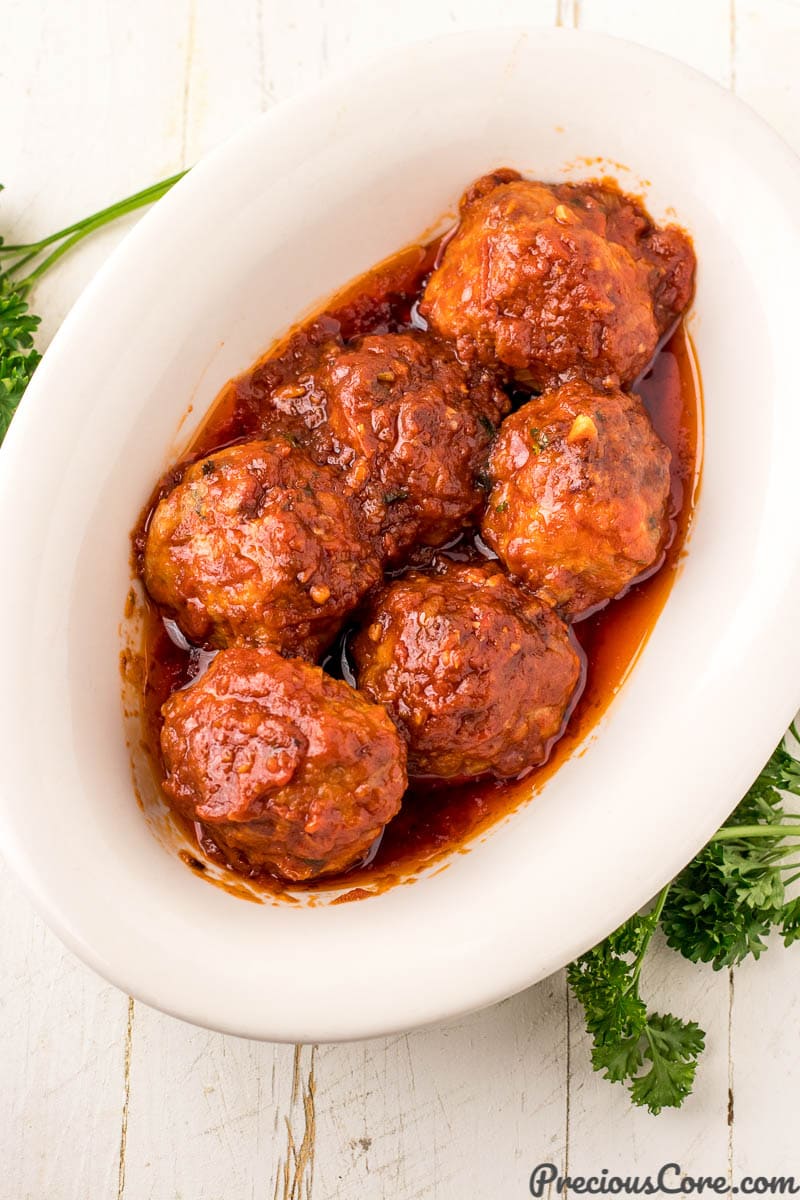 I actually start making the tomato sauce while the meatballs are still cooking. This saves a lot of time! Cook some pasta on one burner while making the tomato sauce on another burner. Before draining the pasta, remove one and a half cups of pasta water and save (we will be using this later.)
How to Make Tomato Sauce for Meatballs
To make the tomato sauce for chicken meatballs, start by sauteeing garlic and onion until fragrant. Add chopped tomatoes and cook until it shrinks then add tomato sauce and cook while stirring from time to time. After about 15 minutes, the tomatoes must have shrunk and will no longer taste sour, yielding a mellow sweet taste that is to die for.
Add the reserved pasta water to the tomatoes. Using pasta water in a sauce to be eaten with pasta is such a genius idea because it helps yield a creamy texture in the sauce as opposed to if you add just plain water.
Also, add chicken bouillon powder to the sauce to enhance that chicken flavor. You may not need to add salt to the tomato sauce because the pasta water contains salt. So at this point, taste to ensure that the seasoning is perfect and adjust the season as needed.
Add the cooked meatballs to the sauce then let them simmer together for about 5 minutes so the flavors can meld. Serve with cooked pasta or check below for other ideas on what to serve with chicken meatballs.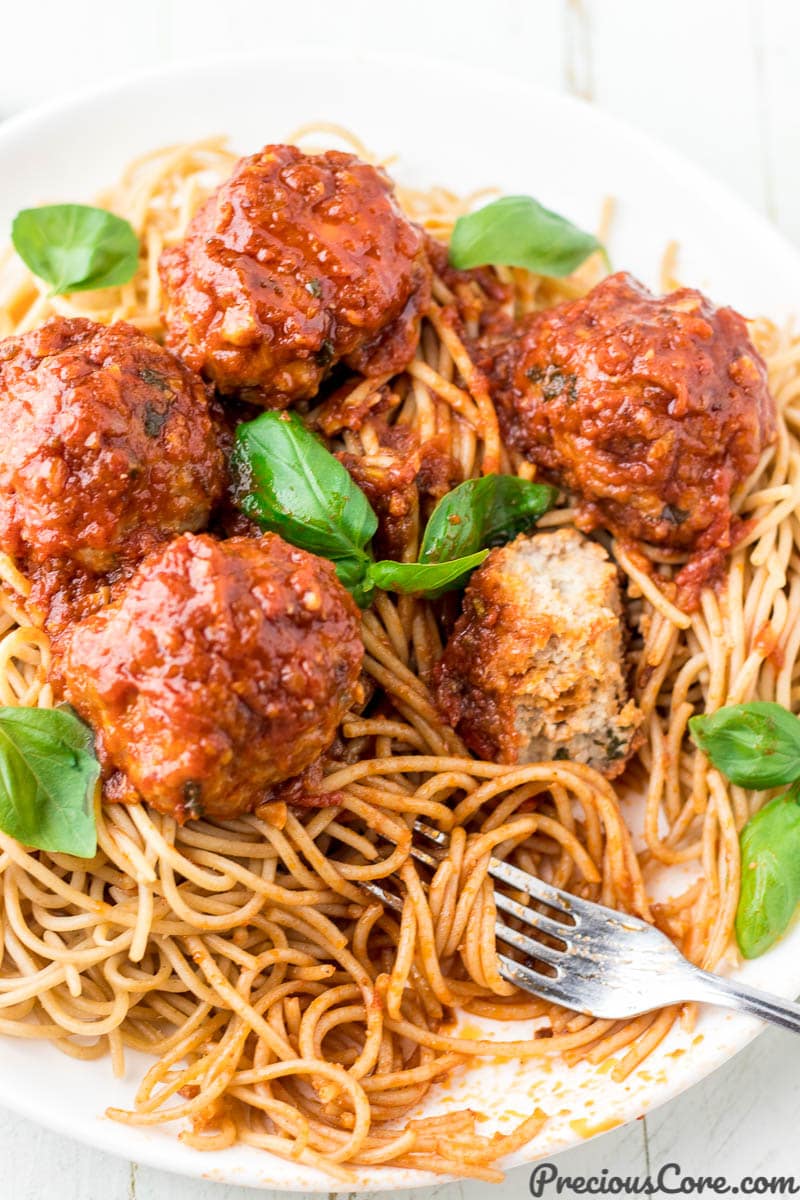 What to Serve With Chicken Meatballs
1. Pasta. This is the obvious choice of sides to pair with meatballs. Boil any pasta of choice according to the instructions on the package then serve with the meatballs.
2. Bread. You could place your chicken meatballs in deli rolls, french bread or any bread of choice to make meatball subs or meatball sandwiches. For more deliciousness, top with some mozzarella cheese then broil under the over for a few minutes before serving.
3. Fried Plantains. If you haven't discovered plantains, then this is a great way to get started with eating plantains. Pair chicken meatballs with sweet fried plantains for the perfect sweet and savory meal.
4. Salad. These chicken meatballs go well with vegetable salad. Replace the shrimp with meatballs in this recipe for a chicken meatball salad!
5. Rice. Chicken meatballs go great with boiled rice or you could serve them with some coconut rice.
Can You Freeze Chicken Meatballs?
Chicken Meatballs are highly freezer friendly so the answer is yes! Place chicken meatballs in a freezer safe bag or bowl, lock airtight and freeze for up to 3 months.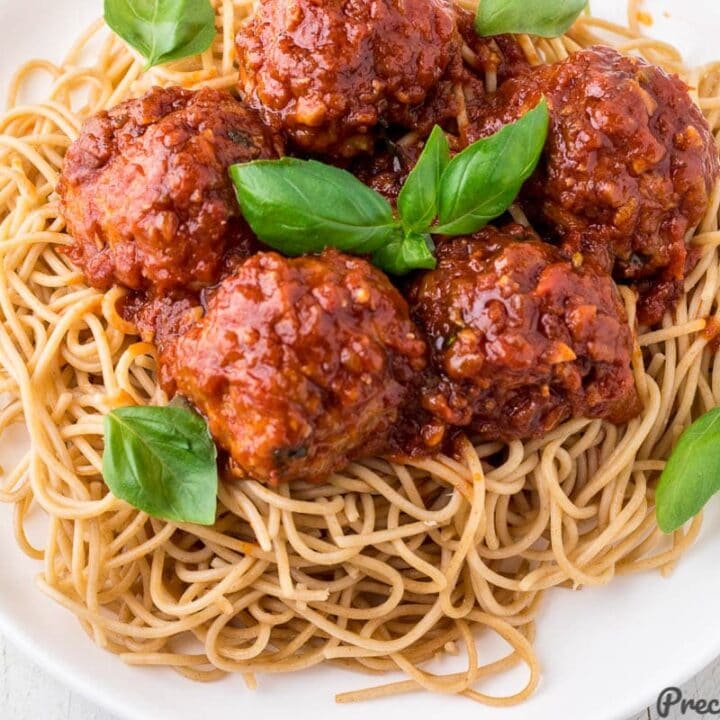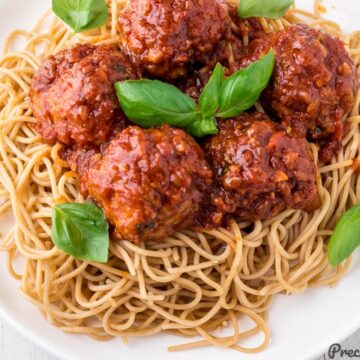 Chicken Meatballs
These Chicken Meatballs are baked but taste fried. They are paired with a savory-sweet herby tomato sauce and served with spaghetti. You can serve these chicken meatballs with any side you like.
Ingredients
Chicken Meatballs
1/2

cup

breadcrumbs

1/4

cup

milk

2

pounds

ground chicken

1

large egg

1

teaspoon

garlic powder

1

teaspoon

onion powder

1

teaspoon

salt

1

teaspoon

chicken bouillon powder

1/4

teaspoon

ground black pepper

1

tablespoon

oil

3

sprigs

parsley-chopped

1/4

teaspoon

red pepper flakes
Tomato Sauce
1/4

cup

oil

3

tablespoons

finely chopped onion

2

cloves

garlic - minced

2

tablespoons

roma tomatoes - chopped

8

oz

tomato sauce

227g

3

sprigs

basil

16

oz

Pasta
Instructions
Preheat oven to 450 degrees Fahrenheit. Line a large baking sheet with parchment paper.

Place breadcrumbs and milk together in a large bowl and mix so the breadcrumbs absorb the milk. Add the ground chicken, onion powder, garlic powder, black pepper, chicken bouillon powder, salt, red pepper flakes, egg and 1 tablespoon of oil.

Mix everything together until just combined. Use an ice cream scoop to scoop out the mixture then mold the scooped-out mixture into balls. Wet hands between molding the mixture into balls so you get perfectly round balls. Place the balls on the prepared baking sheet.

Place the chicken balls in the oven to cook bake for 30 minutes until lightly brown on the outside.
Pasta
Cook the pasta according to packaging instructions. Salt the pasta water just before adding the pasta. Once the pasta is done, remove one and a half cups of pasta water and reserve.
Make the Tomato Sauce
Heat up 1/4 cup of oil in a pot on high heat for 2 minutes. Add the minced garlic and onions then stir until fragrant for about 2 minutes.

Add the chopped tomatoes and cook until they shrink for about 5 minutes. Add the tomato sauce and cook while stirring from time to time so the under of the pot doesn't get burned for about 15 minutes.

Add one cup of reserved pasta water to the sauce. Add a teaspoon of chicken bouillon powder. Mix well to combine then bring to simmer. Add the chicken meatballs to the sauce and let them simmer for 2-5 minutes. Chop the sprigs of bail and add to the pot just before turning off the heat.
Notes
1. Adding pasta water to the tomato sauce ensures a creamier sauce so be sure not to skip this step.
2. I use a large size ice cream scoop. The one I use is about 2-37 inches. If you use a larger scoop, you will need to increase the cooking time. If you use a smaller scoop, reduce the cooking time.
3. Lining the baking sheet with parchment paper ensures easy clean up after cooking.
4. These chicken meatballs could be made in huge batches and stored in the freezer. Make them without the sauce then store in the freezer so you could easily heat them up and add to the freshly made sauce or you could serve them as they are for an appetizer/snack.
6. In my chicken meatballs video, you will see that I do not add milk nor oil to the ground chicken. If you use ground chicken breast with little to no fat, failing to add milk nor oil will yield very dry chicken balls. To avoid dry chicken balls, add the milk and oil.
Nutrition
Calories:
672
kcal
|
Carbohydrates:
67
g
|
Protein:
40
g
|
Fat:
27
g
|
Saturated Fat:
5
g
|
Polyunsaturated Fat:
6
g
|
Monounsaturated Fat:
13
g
|
Trans Fat:
0.1
g
|
Cholesterol:
159
mg
|
Sodium:
829
mg
|
Potassium:
1152
mg
|
Fiber:
4
g
|
Sugar:
5
g
|
Vitamin A:
338
IU
|
Vitamin C:
5
mg
|
Calcium:
71
mg
|
Iron:
3
mg
*This post contains affiliate links.