I GOT SOME SNAILS- NYAMANGORO
Published Sep 17, 2015
Updated May 30, 2018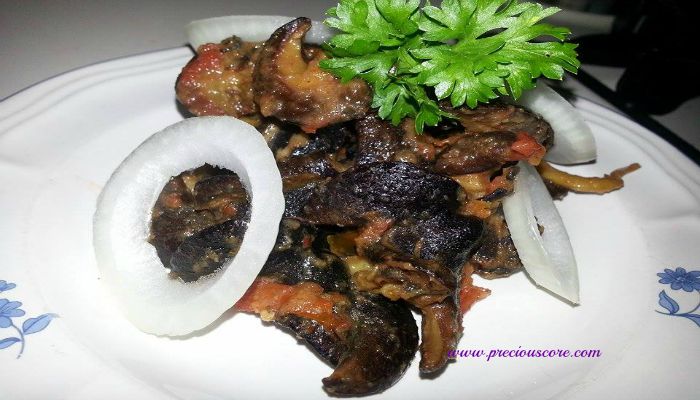 There are some things that only happen once in one's lifetime… like receiving a gift of snails from my sister-in-law! What is even better is the fact that these snails were transported all the way from Cameroon- original taste. Somebody gifted her and she in turn shared some with me. I was elated to receive them. I kept thinking of how they will taste in my mouth after they pass through my laboratory kitchen.
Snails are widely eaten by the the people of the South West region in Cameroon. Sadly, some tribes detest them. In my parents' home, we only cooked snails in my Dad's absence. He had a phobia for the shell-housed creatures. However, my Mom taught us to love them and it's a delicacy for us, any day, anytime.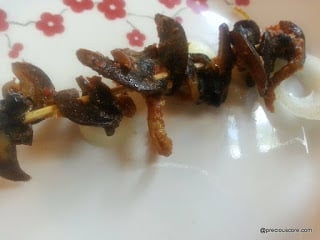 Snails, biologically known as Achatina achatina  are highly nutritional. They contain high amounts of protein and iron. They possess anti-cancer properties and are loaded with different vitamins and minerals. I once heard a doctor talk about the nutritional value of snails and I felt like rushing to the market to get a ton of them.
They are known as 'escargot' in French and colloquially called, "nyamangoro" in Cameroon. Other names for them include, "slow boys" and "congo meat". You know, when something is so special, it gets many love names. That explains why there are many appellations for these edible creatures. I will use the various names interchangeably as I write on.
Slow boys are sold as a street food in Cameroon on skewered sticks. They can also be used to prepare meals like Eru, Tomato Stew and Pepper Soup. When I received my package of snails, I discovered that they were all dried as the pic below shows.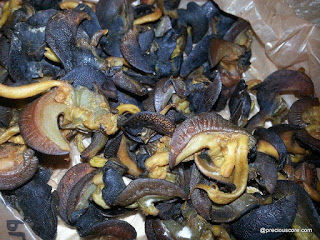 So I soaked them in water overnight. By morning, they looked so fresh: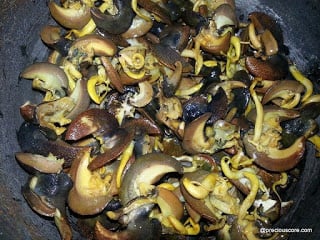 Then I put them in a pot, added some water, salt and seasoning cubes. I threw in some bay leaves plus garlic powder, ginger powder, freshly blended chili pepper and diced onions. Then I brought them to a boil. I put in enough water to cook the congo meat to perfection without loosing their crunchiness.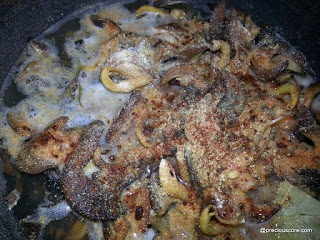 When the water was almost all gone, I chopped one tomato and added to the pot to give them a little colour. I also added in a little vegetable oil. The tomato cooked for a while till all the water was all gone.
To make my snail-eating experience more pleasurable, I paired them up with fried ripe plantains a.k.a dodo. My taste buds danced for joy.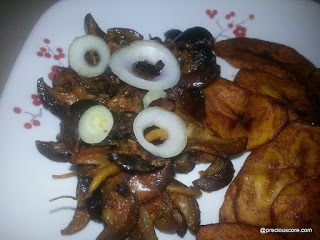 I asked Mr. N to partake in my plate of heaven. He blatantly refused despite my attempts at practicing the art of plating…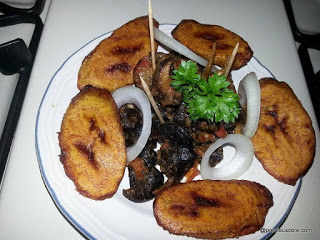 Well, I didn't bother… at least I passed on an invitation. I devoured all that goodness and a few minutes later, my small plate was begging for more.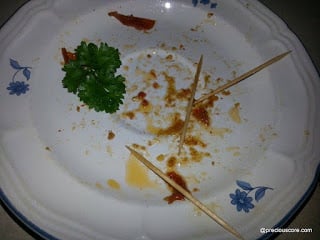 May God bless the people in that plantain farm in Kumba who picked these snails. May He bless the women that washed them vehemently with lime and garri. Or was it kangwa they used? May He embarrass with blessing, the people that painstakingly dried the snails and made them fit for exportation. May He smile on those air port authorities that did not reject the entry of the snails into the United States. May He bless the woman, that Bamileke woman that decided to defy stereotypes and transport snails to Etats. May He bless her for sharing some with my mbanya (sister-in-law). May He bless my sister-in-law for in turn sharing some with me!
I took a trip to Buea by eating these peppered snails. Who knows? Maybe another foodie miracle is on the way. Until I meet you in the next post, stay sweet! Wait, which food are you craving for right now? Let me know below.