KWACOCO AND BANGA SOUP
Published Apr 14, 2017
Updated Sep 26, 2018
While cooking my delectable pots of Kwacoco and Banga Soup, this song from the past kept ringing in my head.
If you want to marry Bakweri woman, prepare! You have to prepare! Prepare to eat Timanambusa. Prepare!
Hands up if you know the song! You see, Kwacoco and Banga Soup is the traditional meal of the Bakweri people of Southern Cameroon. It is called, "timanambusa" colloquially. According to Bakweri purists, it is actually "Timba na mbusa". Now say that really fast: tim-ba-na-mbu-sa. I hear it means that you eat and you come back. And they are not lying. This chop sweet, no be lie.
Watch the video of how I made it:
Let me tell you a little story. I took this particular batch of the meal to my friend who just had a baby. Prior to taking it there, I had asked her a week before: "Do you eat Kwacoco and Banga Soup?" You see, she's a Bamda (Bamenda) geh like me and our traditional meal is Achu. So I knew she might not be familiar with the meal. I lived long enough in the South West region of Cameroon from where comest my mother. So I am so familar with Eru, Ekwang, Kwacoco Bible and other South West delicacies. But that's not the same for every Bamda geh (Bamenda Girl! – I like the distorted version better – just saying.)
So my friendly friend said, "Yes, I eat it!" She proceeded to tell me a story of how she went to her aunt's house and saw this meal for the first time. She looked at it, with the banga soup drizzled all over the kwacoco and thought it was plantain porridge so she declined digging in. She was convinced to try it and once she did, BAAM! she was hooked.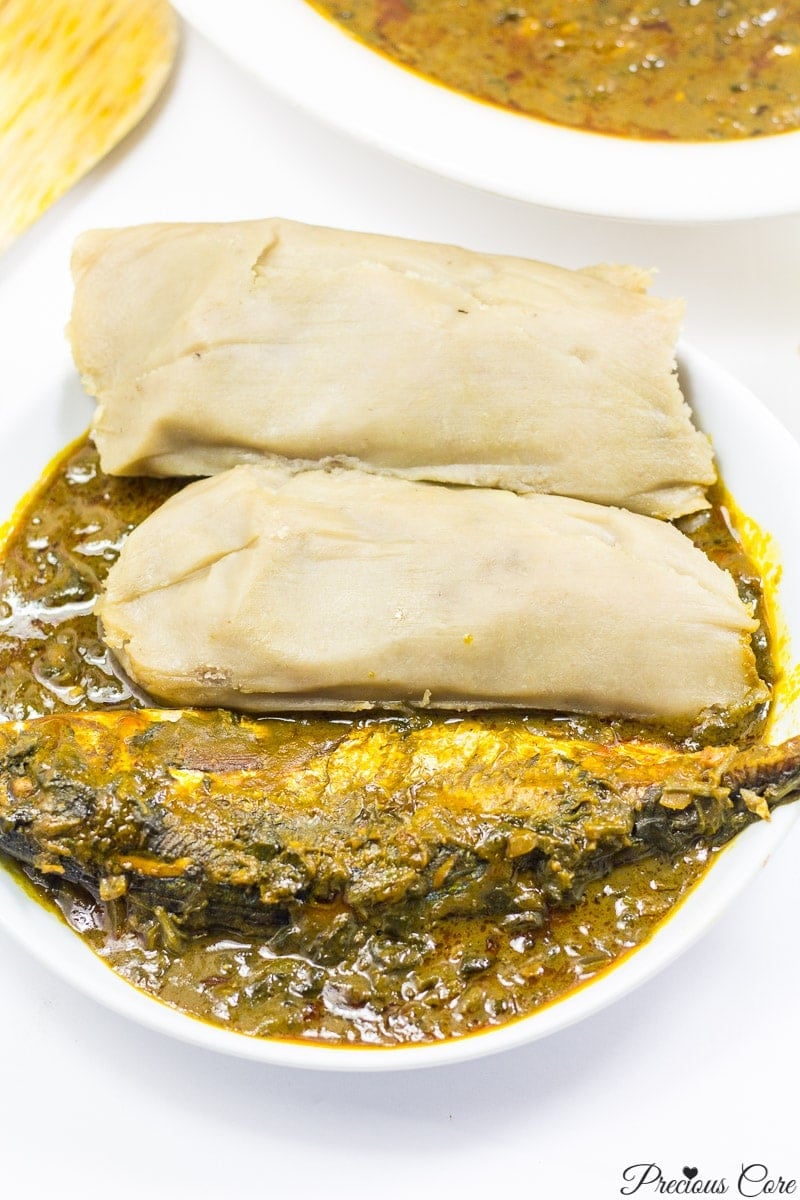 Kwacoco and Banga Soup is the very definition of finger-licking good. I forbid you to use cutlery when eating this. The meal begins with the Kwacoco, which is quite different from Kwacoco Bible. This one is made by simply grating (or grinding in a food processor) cocoyams (taro), seasoning with salt then wrapping the cocoyam paste in banana leaves to steam. If you do not have banana leaves, use aluminium foil. It works well.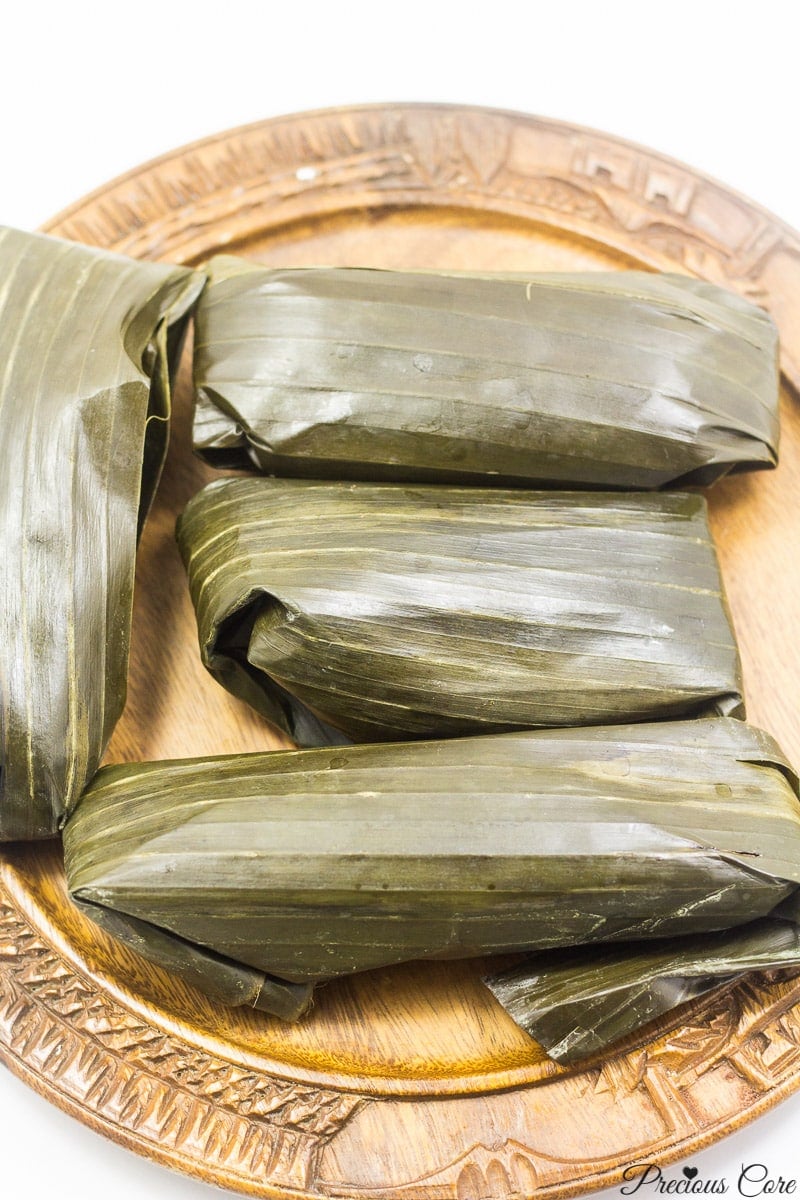 The grated cocoyams produce these slightly sticky lumps of cocoyam goodness. Hint: this is called "macabo wrappé" in French and it goes well with this groundnut soup. That's another delicious Cameroonian combo.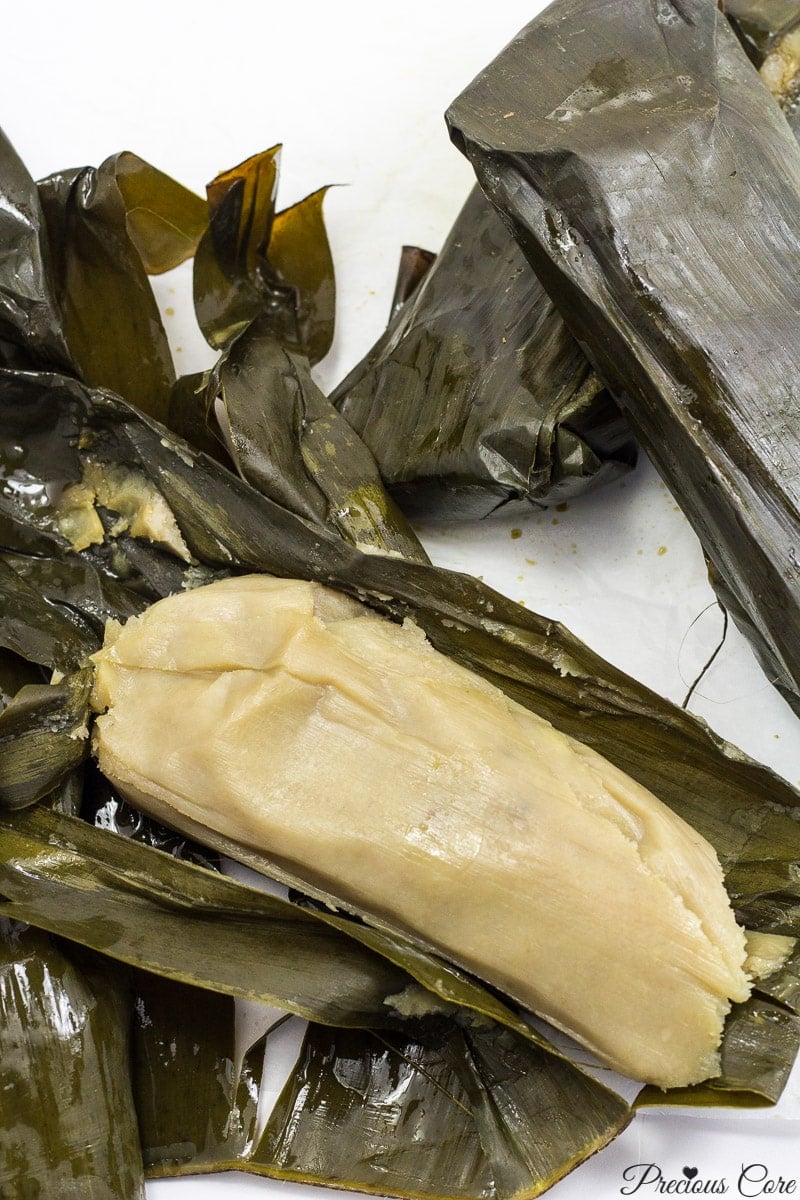 Now the steamed cocoyam, which is the Kwacoco is eaten with Banga Soup. Banga Soup is a soup made out of fresh palm nuts and it is popular in a number of West African countries. It is known in Nigeria and Cameroon as Banga Soup. The soup is made by boiling then crushing the palm nuts to extract the pulp which is then sieved. Other ingredients including crayfish, fish and hot pepper are added to make a creamy, tasty, earthy, delightful soup.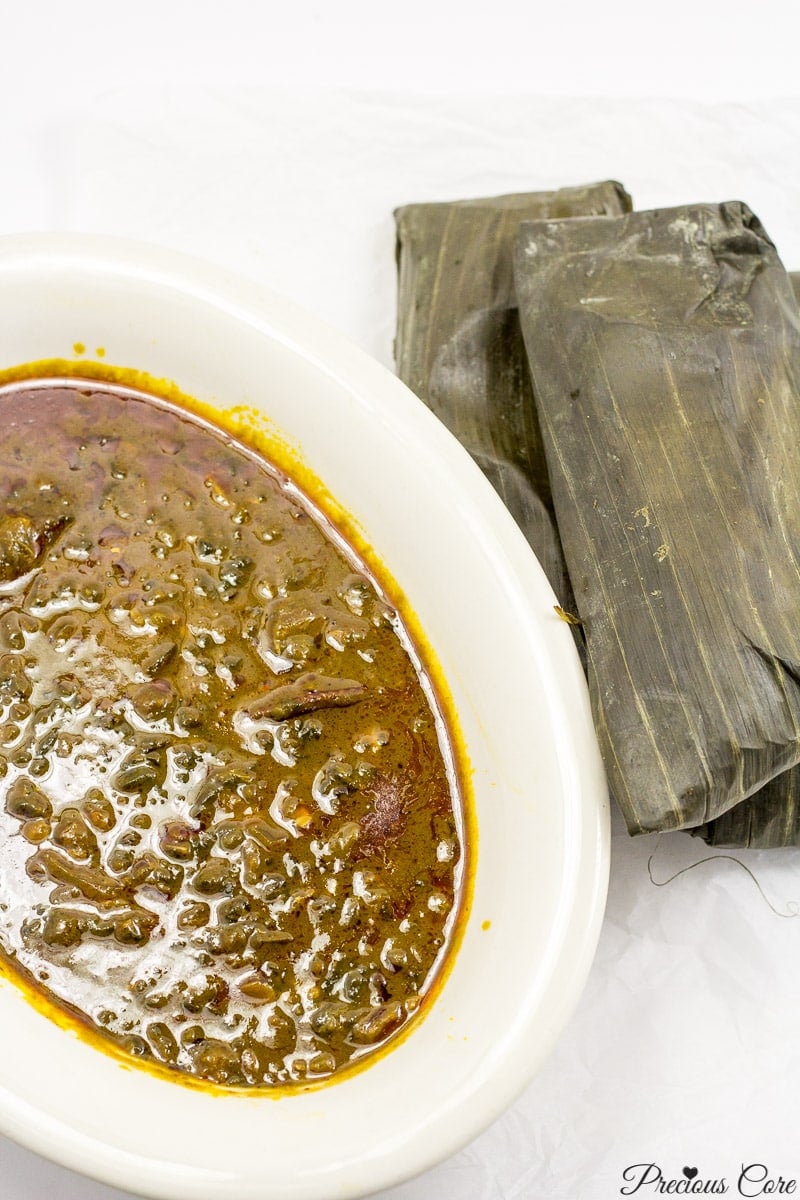 Here in the United States, I do not get to see fresh palm nuts (poor me!) But I discovered palm nut concentrate at the African store. It tastes just as good and using it to make banga soup is easier since I do not have to go through the process of boiling and pounding the palm nuts. Win!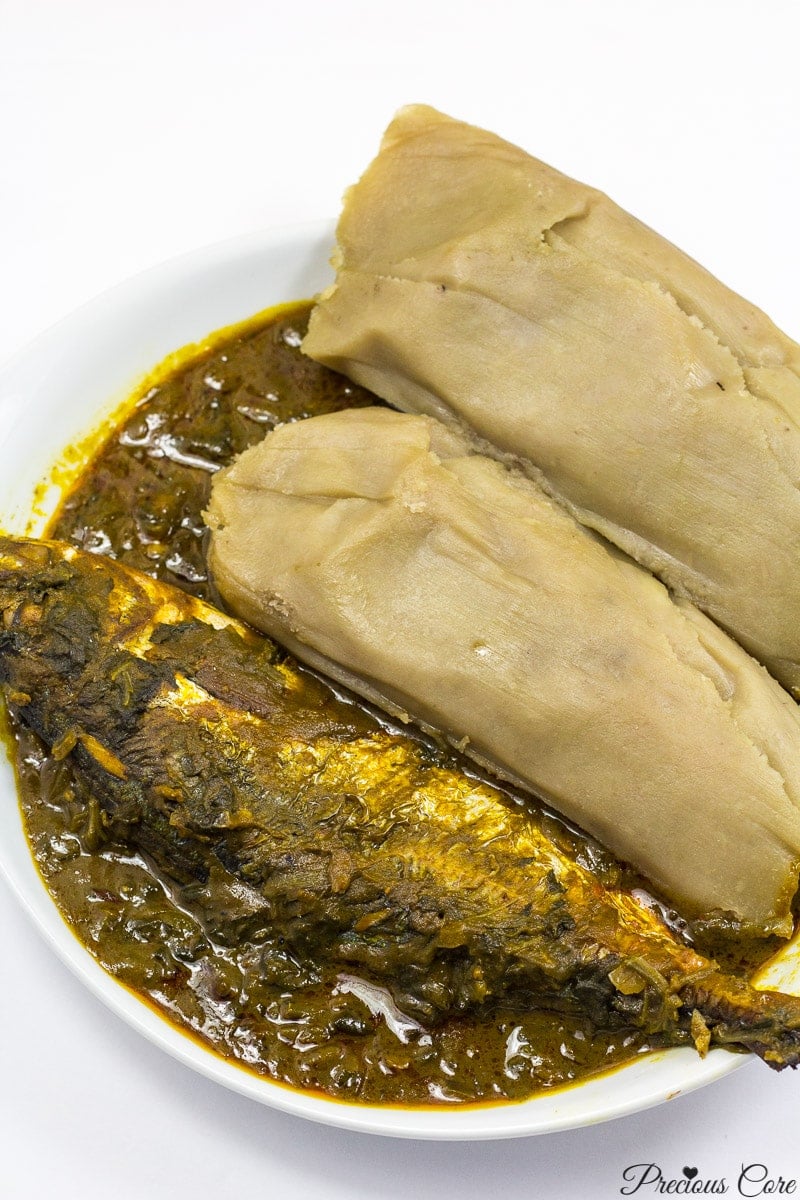 Did I already say this is finger-licking good? Remember, no cutlery allowed!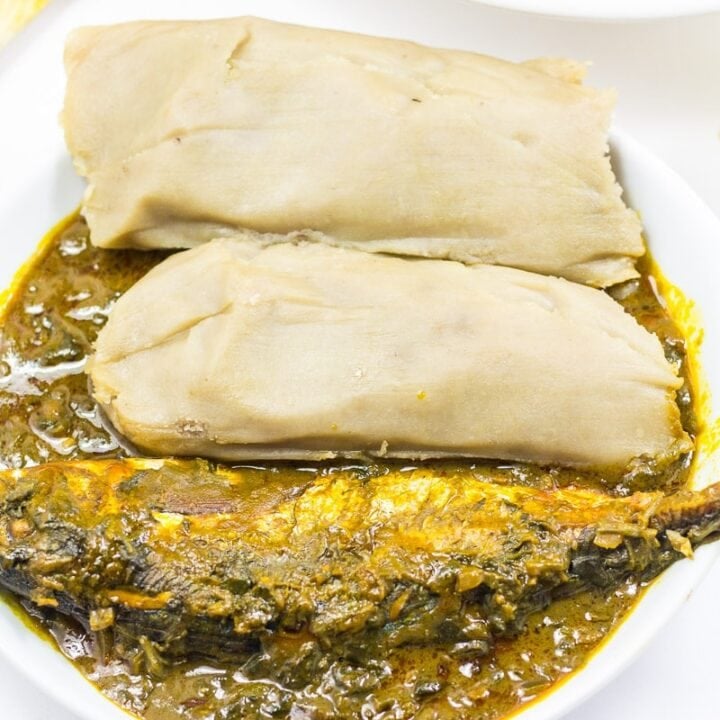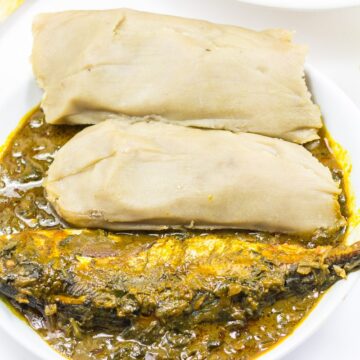 Kwacoco and Banga Soup
This is a Cameroonian meal made up of the Kwacoco - cocoyams (taro) grated and steamed in banana leaves, and the Banga Soup - soup made out of fresh palm nuts. It is very tasty, earthy, so good!
Ingredients
7

large cocoyams (taro)

10-12

banana leaves - cut into rectangles and warmed over fire or in hot water

for wrapping

1

can

palm nut pulp concentrate (28 oz/800 g)

or 1 kg fresh palmnuts

3

small seasoning cubes (Maggi)

1/2

cup

crayfish (coarsley ground)

1

habanero (hot) pepper

2

pounds

smoked fish of choice (about 1 kg)

1

teaspoon

salt

1

medium onion - chopped

1

handful

chopped spinach or any leafy green
Instructions
Kwacoco
Peel cocoyams then wash thoroughly. Grate or process in a food processor to a paste. Line a large pot with worn-out banana leaves or aluminium foil. Wrap about a cup of the cocoyam paste in each banana leave to form a log. Place all logs into the pot. Add two cups of hot water and steam for about 1 - 2 hours. Every 10- 15 minutes, add in more water until fully cooked.
Banga Soup
If using fresh palm nuts, boil until tender then place in a mortar and pound to extract the pulp. Add in 4 cups of hot water then sieve to seperate the skin from the pulp. Place the pulp in a pot.

If using the canned palm nut concentrate simply pour it into a pot and add 2 cups of water.

Add chopped onion and let it boil together with the palm nut pulp for about ten minutes. Then add salt, Maggi, pepper, crayfish and dried fish. Add in another 2 cups of water and let them simmer for another 10 minutes. At this point, check the consistency of your soup. If it is too thick, add in more water as needed. Also taste to ensure that the seasoning is perfect.

Add chopped spinach and let it simmer for 2 minutes. That's it! Kwacoco and Banga Soup is ready.

Enjoy with your hands because this is finger-licking good!
Notes
The cocoyams used in this recipe should be the longer ones because they hold well together. The small round ones won't work.
Avoid stirring the soup once you add the fish so you do not break up the fish. Banga Soup is good with big chunks of fish!
Nutrition
Calories:
341
kcal
|
Carbohydrates:
28
g
|
Protein:
38
g
|
Fat:
8
g
|
Saturated Fat:
2
g
|
Polyunsaturated Fat:
2
g
|
Monounsaturated Fat:
2
g
|
Cholesterol:
188
mg
|
Sodium:
1012
mg
|
Potassium:
1344
mg
|
Fiber:
4
g
|
Sugar:
2
g
|
Vitamin A:
737
IU
|
Vitamin C:
9
mg
|
Calcium:
98
mg
|
Iron:
1
mg
Pin for later:

If you make this deliciousness, don't forget to tag me in a photo on Instagram: @preciouscore. You can also share a picture on our Facebook page. I'll love to see!