I have been planning to do a Monday morning post for a couple of weeks now but I keep sleeping way into my Monday mornings than I want to. I always wake up past the time I expected to wake up and by then my day is already crowded with many things that I can barely find the time to sit down and write. Sleep could be evil.
This morning was no exception. I woke up much later than I wanted to. But I purposed in my heart to sit down and type an update post no matter what. That's because I set Monday mornings for "pen speaking" posts and though I haven't been able to do that for a while now, my goal is to establish that.
So, we are settling in California. And Iife is just all shades of different right now.
One big change I'm loving is the new church we found! Wow! So many loving people in that place. We have literally met  (spoken, gotten acquainted with) new Jesus loving families almost every Sunday that we've been to church. Considering that it is sort of a megachurch, it is quite wonderful to see that people make such an effort to connect with others. I never wanted us to belong to a megachurch because it often feels like you are lost in a crowd and you have no church family. But this one has proven to be so different so far so thank God!
Also, we met a couple of homeschooling families. AND I will be having a mom's night out with other homeschool moms tomorrow. So excited!
We are also loving the fact that there's no looming fear about impending winter and unending inches of snow. Okay, not unending inches but that's what the snow in Minnesota always felt like. And I always didn't look forward to winter. It always felt like a dark period of life which we could not escape. Maybe our winter coping mechanisms weren't strong enough but still driving in and walking through snow is not quite fun.
Now here is one thing I don't like about California: there are lizards around! And it is really strange that this freaks me out because I grew up seeing large lizards strutting around buildings. But after being in Minnesota for a while and not seeing any of such around (except for a pet lizard in a family friends') home, I had kind of forgotten what it was like to share your pathway with a reptile. Verily verily, I need to learn how to live with and accept the creatures God made. But it is hard!
I have been cooking a lot because cooking makes a house a home right? Here are some things that have gone down, which I shared on my Instagram page: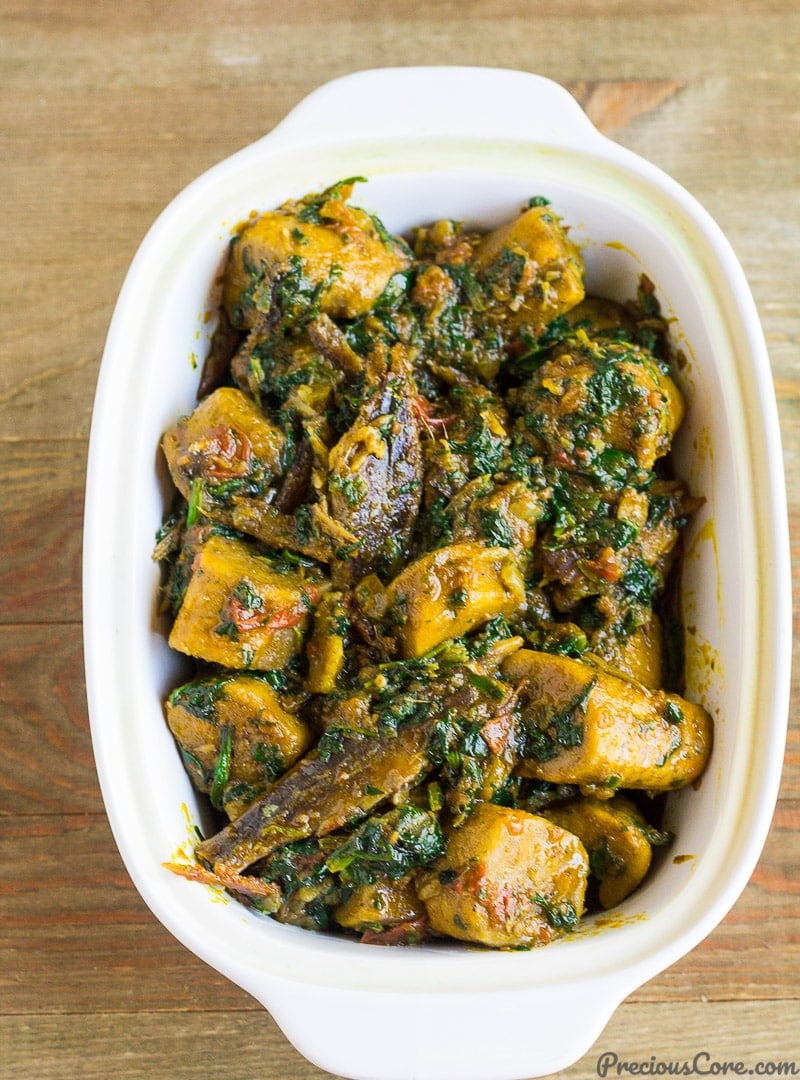 One of my biggest cravings right now is anything that can be made in one pot with palm oil. So yam porridge and plantain porridge are right on the top of my list of favorite meals. West African "porridge" meals are not quite the same as porridge in other parts of the world. They often include a starchy carb cooked in one pot. And they are not all mushy either. As you can see, my plantain porridge has pieces of plantains in it which are quite chewy. So good!
Also, I have been making a lot of omelettes.
Omelette and some sweet fried plantains. This combo is the truth!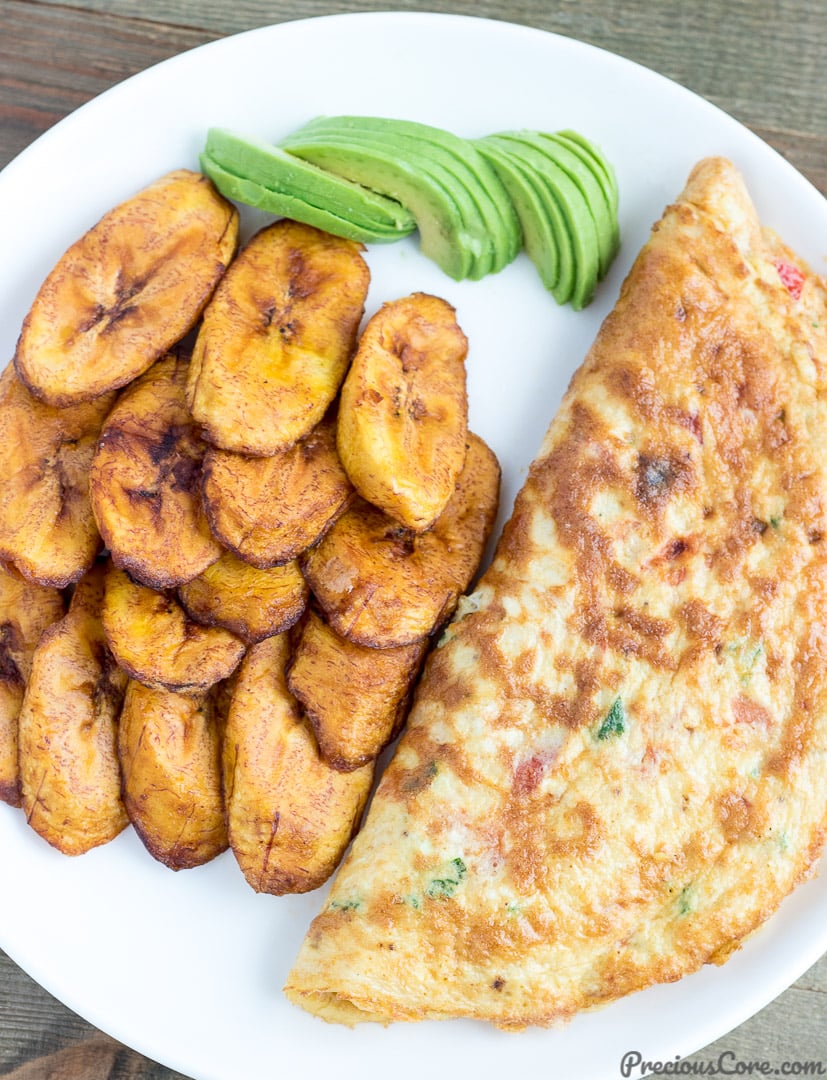 Omelette and some fried African sweet potatoes. And I always love some avocado on the side because avocado just makes the whole thing better.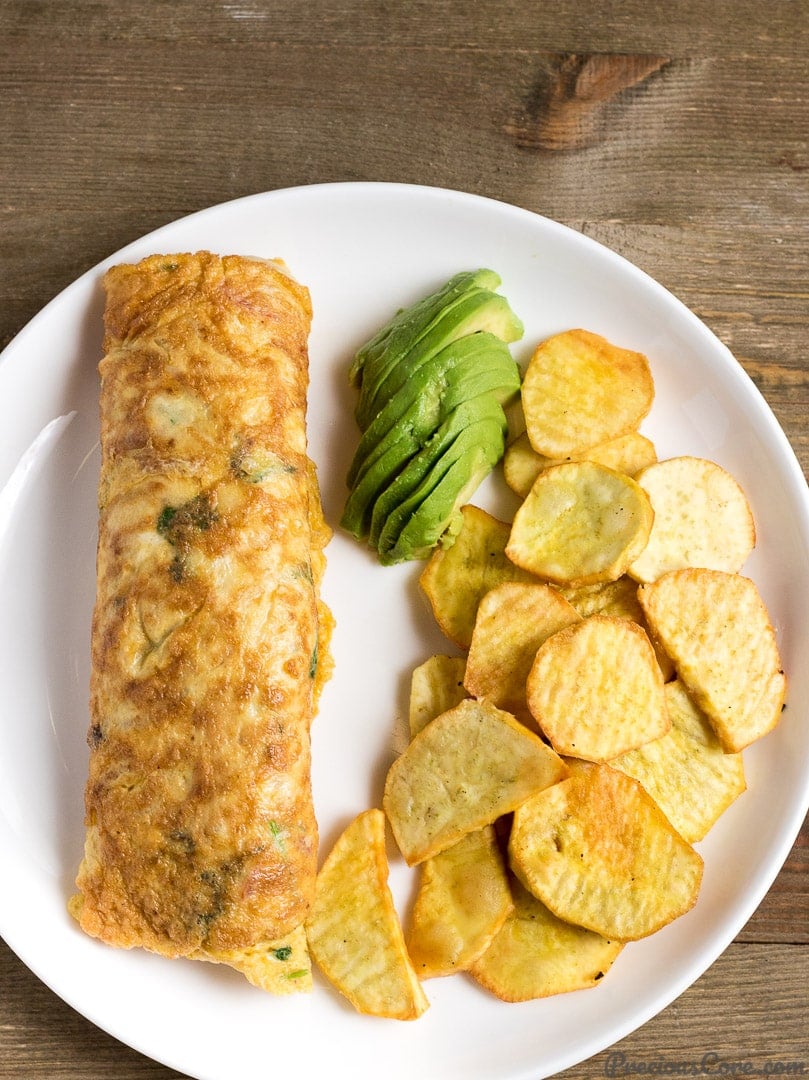 I bought African sweet potatoes from an Asian store. They are quite different from American sweet potatoes. The ones I bought are purple on the outside whereas the ones back home are yellow on the outside. However, they taste EXACTLY THE SAME. I think the ones here are labeled as "Thai sweet potatoes". An African style omelette is just one of the most flavorful things on the planet! to see how I make it, you could check out this video.
Also, I have been enjoying a lot of stewed pinto beans (recipe coming soon)! I think I have eaten pinto beans in California more than I ever did in my entire life in the US. Here is some stewed pinto beans and fried plantains – life-giving combination!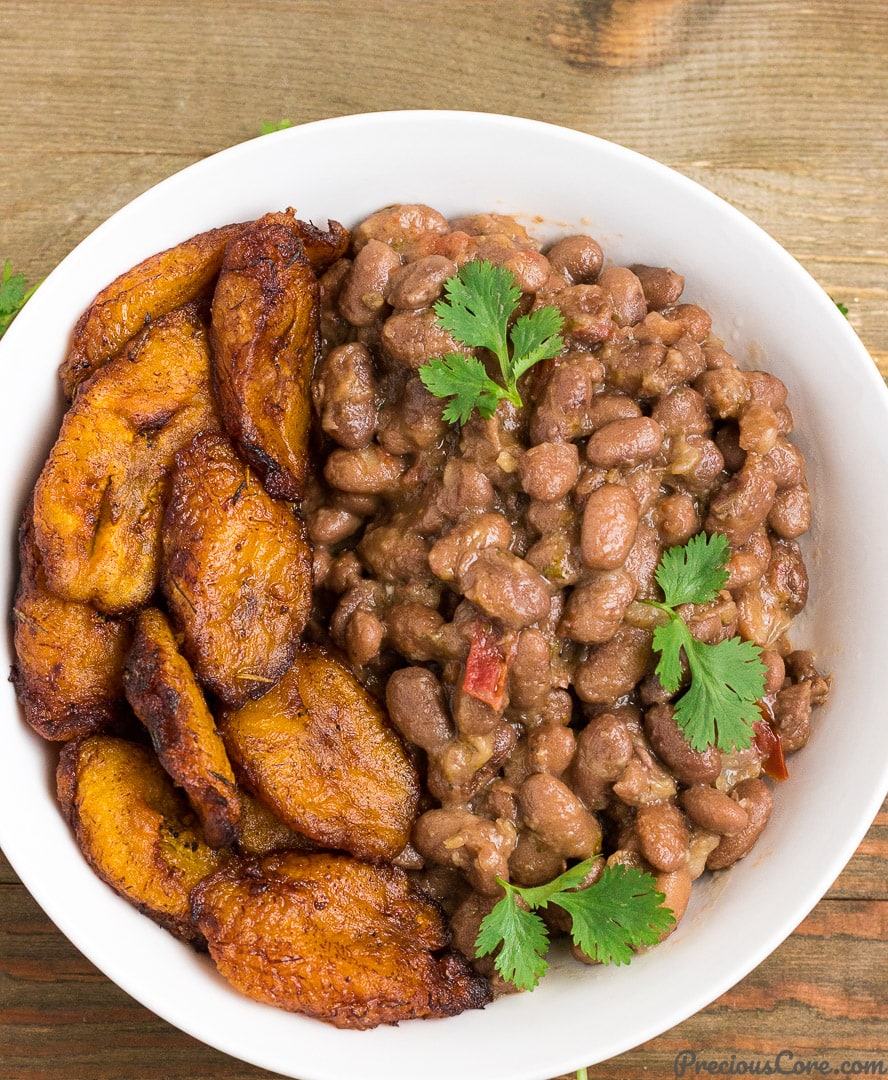 And I just love the epicness of this potato hotpot. Such a hearty meal! Get some russet potatoes and make some (that's an order).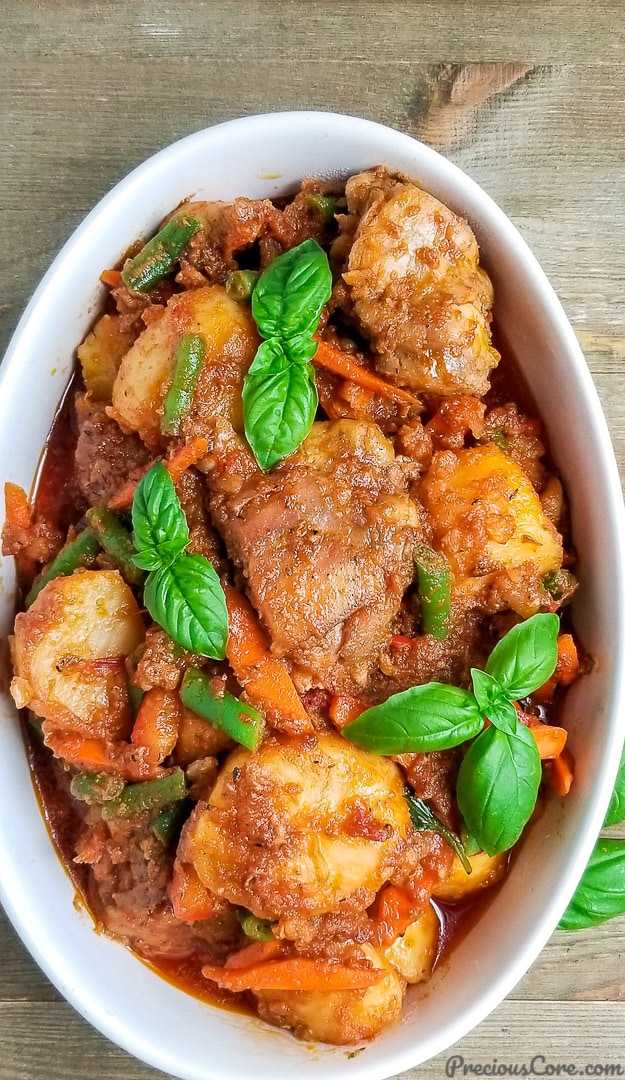 Can we just give a standing ovation to one-pot 30 minute pasta meals? They have been saving lives since 1769. Here is macaroni which I simply boiled then sauteed in a simple tomato sauce with canned sardines in oil. I tell you, my kids were very happy and cleared their plates in no time.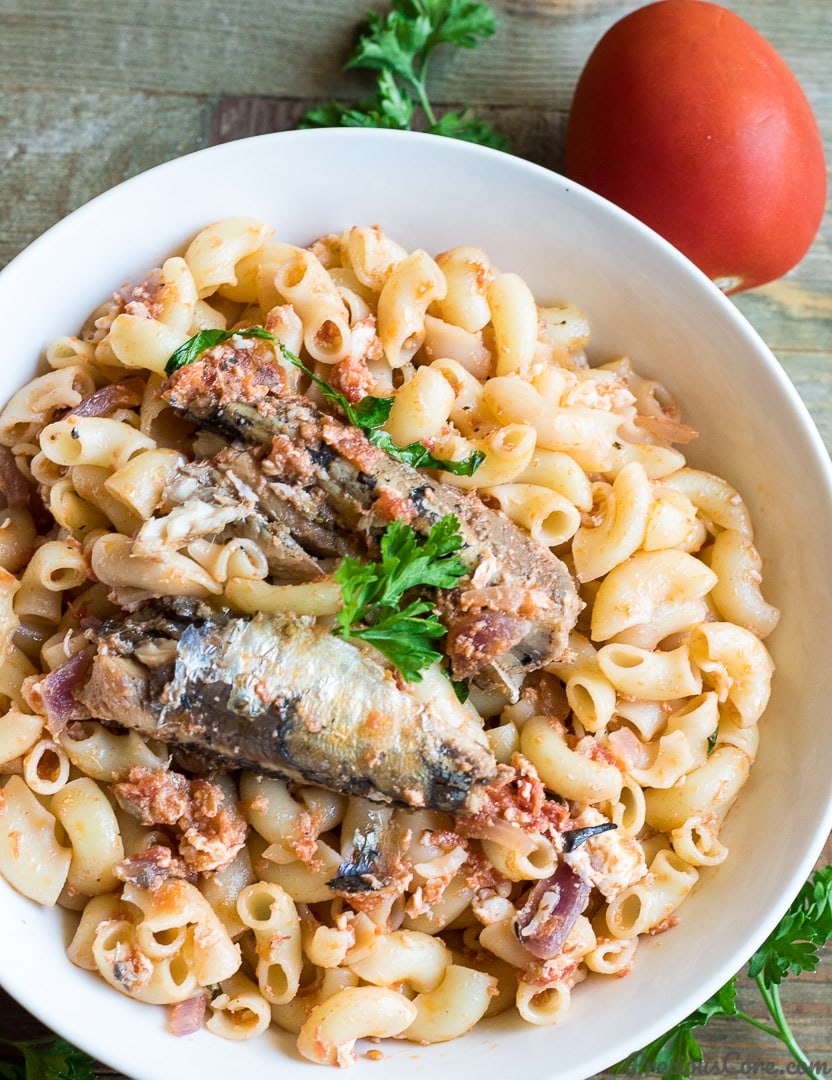 In case you are interested in how I made this, I shared a similar recipe on my Facebook page a while back.
Also, more stewed pinto beans (I told ya). This time, it is served with Garri (granules made out of yucca root also known as cassava).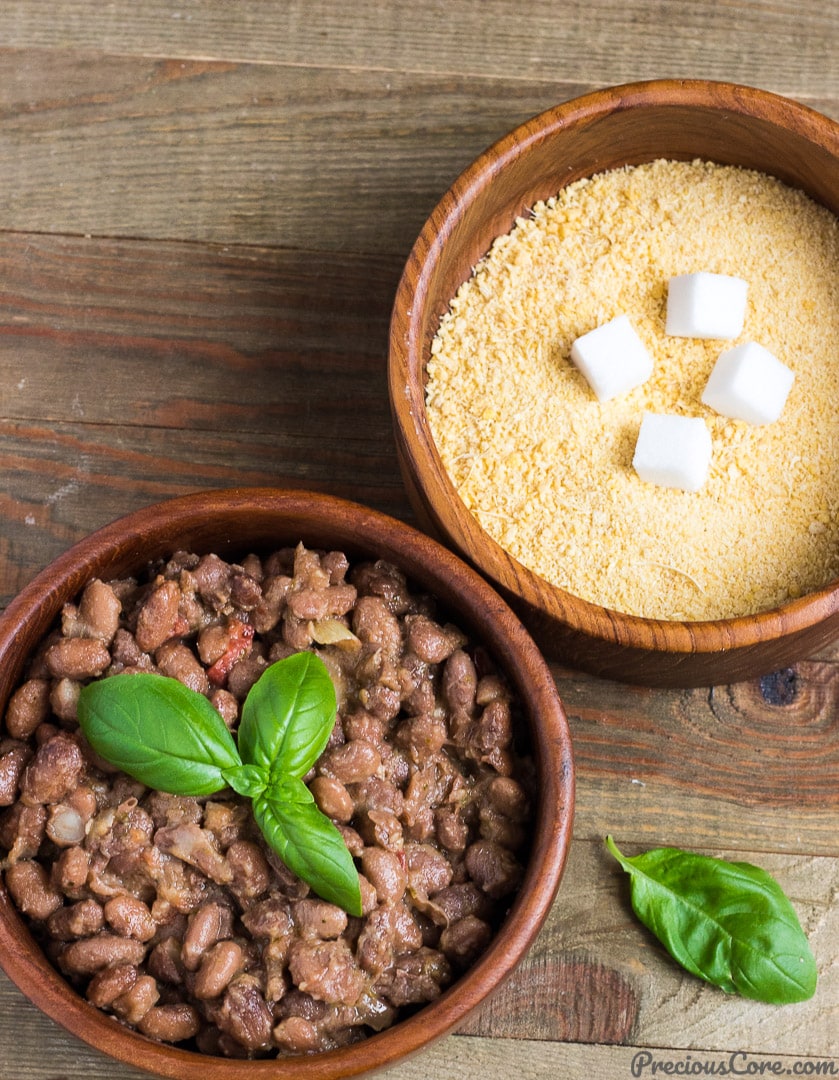 The Garri is soaked with water (preferable cold water), sweetened with sugar and eaten with a side of stewed beans. It is a very informal casual meal that tastes insanely delicious! I ate this so many times while growing up and I still love it like crazy.
Also, someone is very pregnant.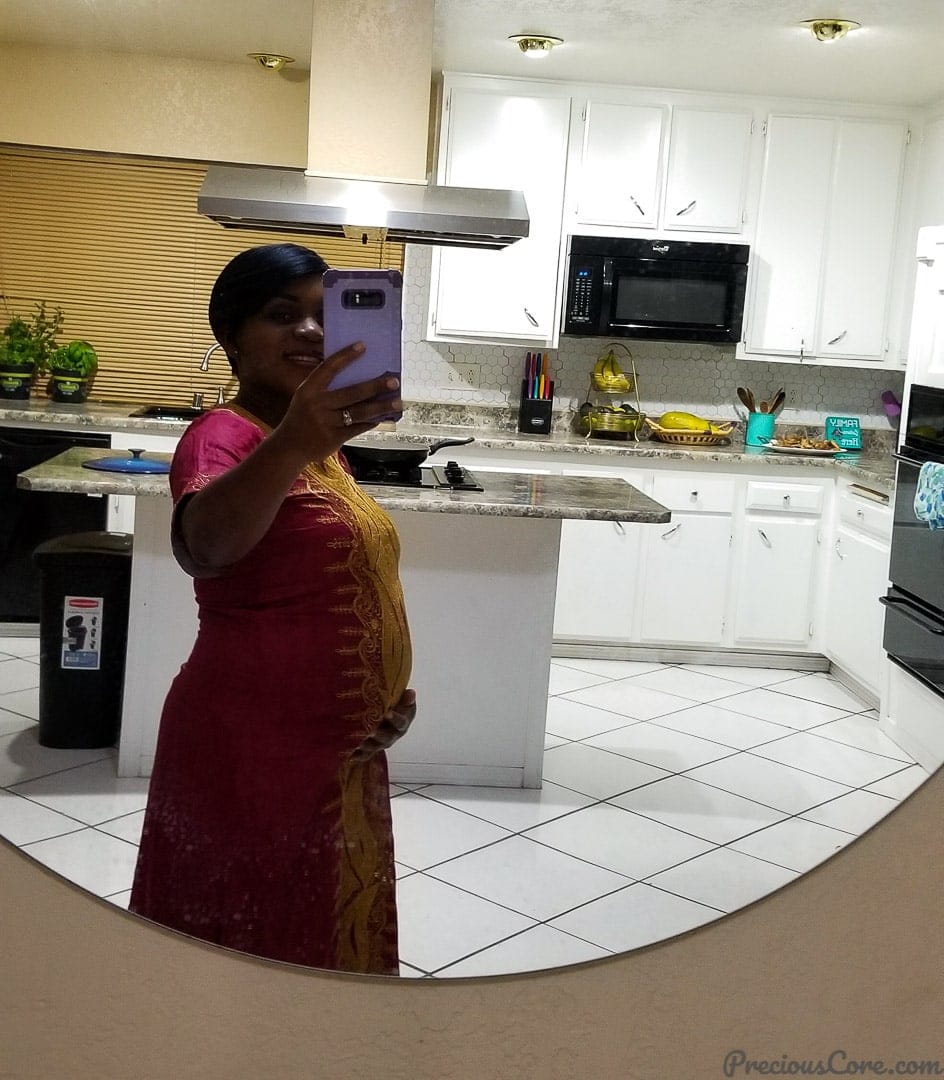 And I'm enjoying all the benefits like being crazily sleepy in the middle of important tasks. And forgetting what year we are in. And feeling the baby kick. And just feeling special because there is new life growing in me.
May your week be filled with love and good food! Thank you for reading.