HOW TO GRILL A BIG FISH
Published Aug 18, 2016
Updated Sep 26, 2018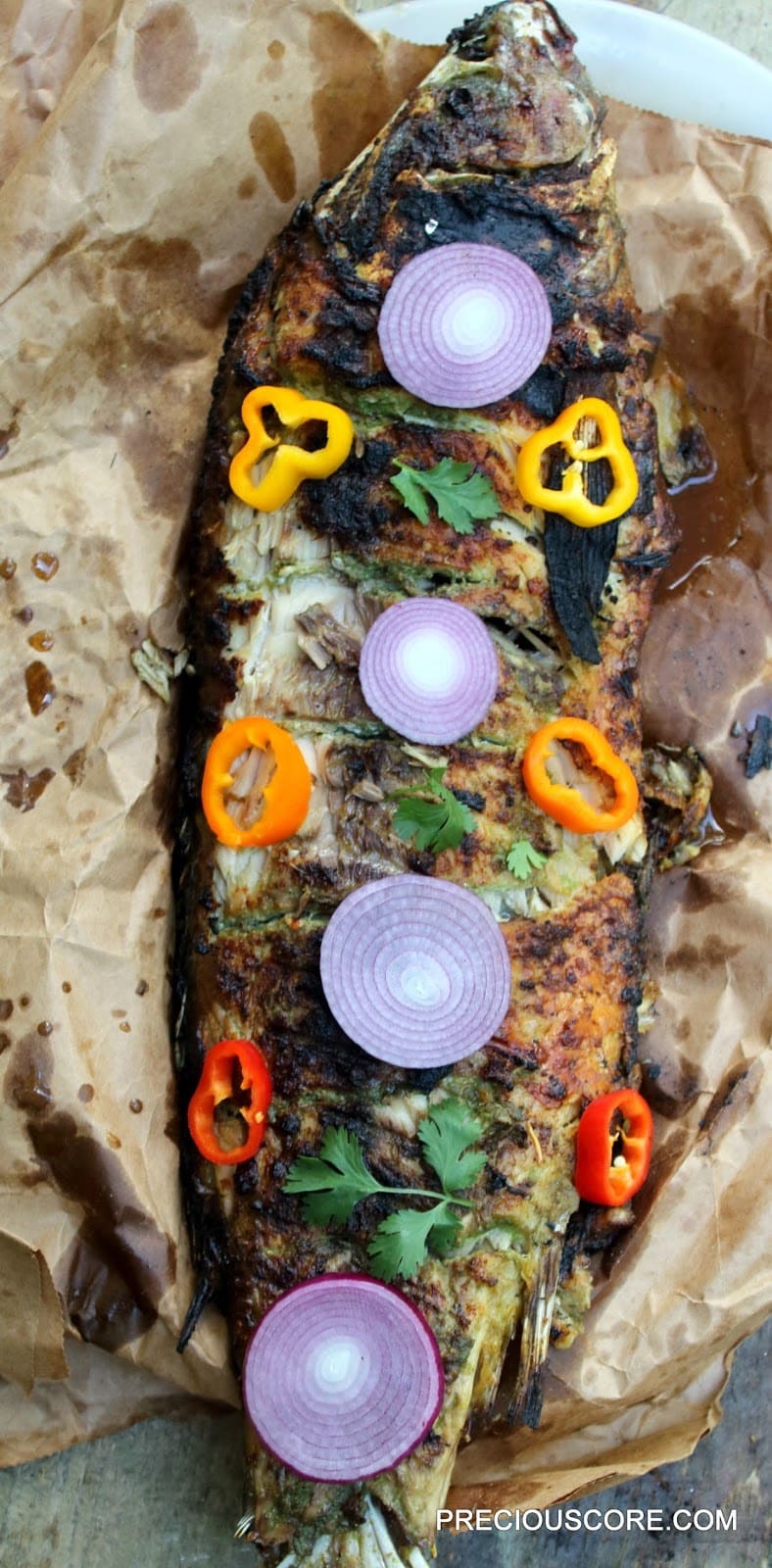 Guys, I'm all about the fish these days. Fish to me is simply phenomenal… especially when it is grilled… especially when it is properly seasoned… especially when… Never mind! For our
wedding anniversary
last week, Mr N bought a BIG fish so we could grill on our
grill
.
Grill on our grill.
How does that sound? Grill on our grill? Never mind!
A really big fish looks great on the dinner table. You could use this to impress your guests or impress your mouth. Whoever you are trying to impress, you must make sure your fish is cooked properly. Never ever take a super big fish and place straight onto the grill. That's a recipe for disaster.
The fish is too thick and can't be cooked properly solely by the direct heat from the grill. You'll need to wrap it first in foil and cook before placing directly on the grill, which is exactly what I did. I took photos of the process and I'm sharing with you guys so if you ever want to grill a really big fish, you know which way to go. Let's dive in!

I made a luscious marinade consisting of garlic, ginger, white pepper, cilantro, celery, green onions, salt, Maggi and vegetable oil. You can find a similar marinade here.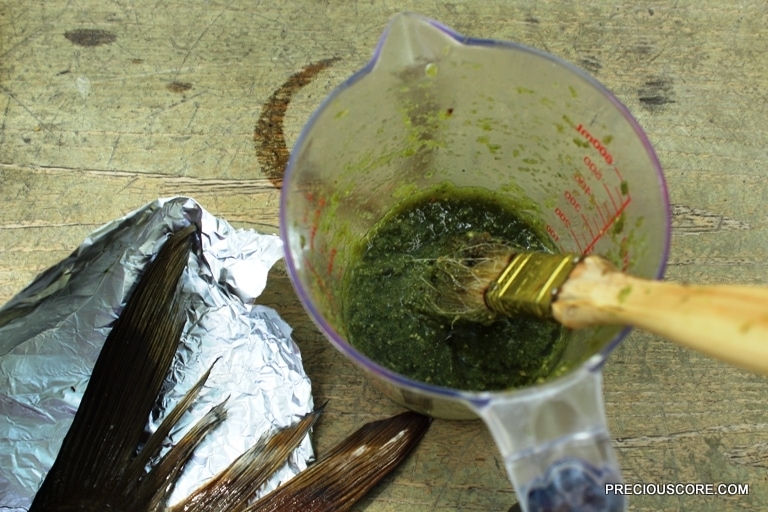 Then I rubbed all of that over the prepared fish.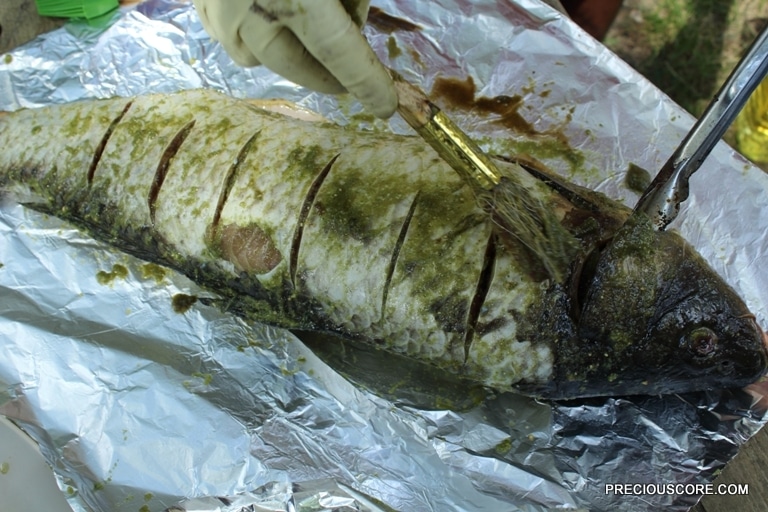 You really want to make sure the marinade enters the nooks and crannies of the fish. By the way, this fish is called, Buffalo Fish and the taste is ah-mazing.
Cut out some aluminium foil bigger than the size of the fish and generously rub vegetable oil over it.
Note that the oil has to be generous or else your fish will stick to it when cooked.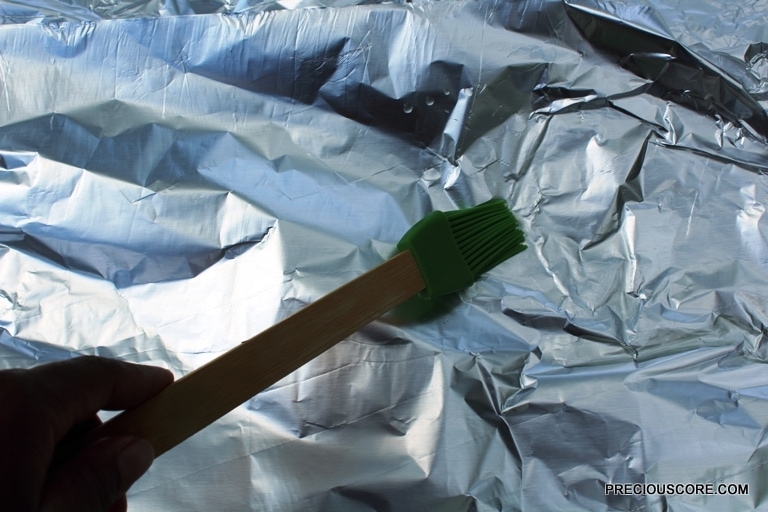 Place the fish on the foil.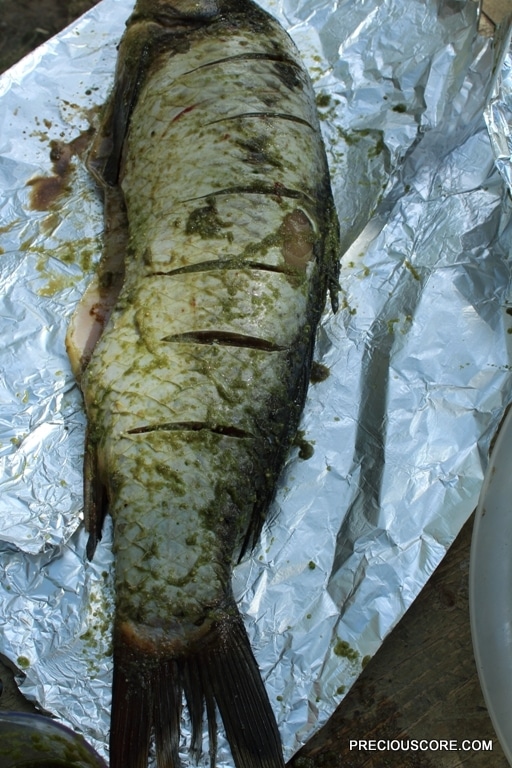 Wrap it all up. Be sure to make sure the fish is well covered.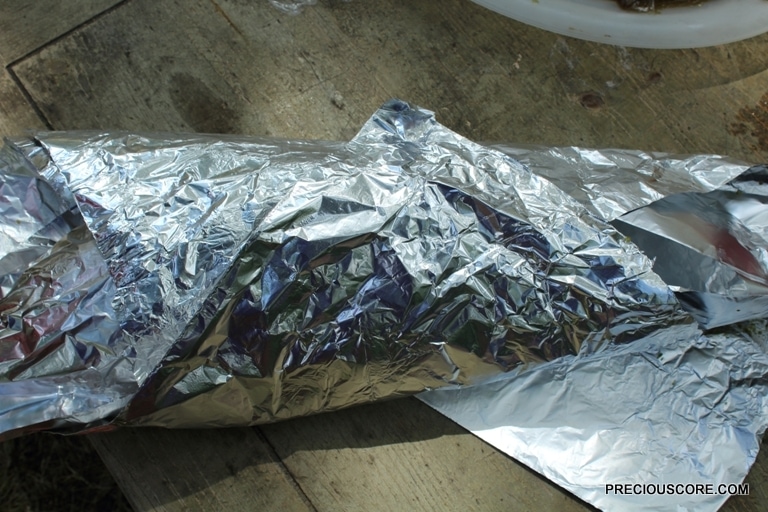 Now place it on the grill.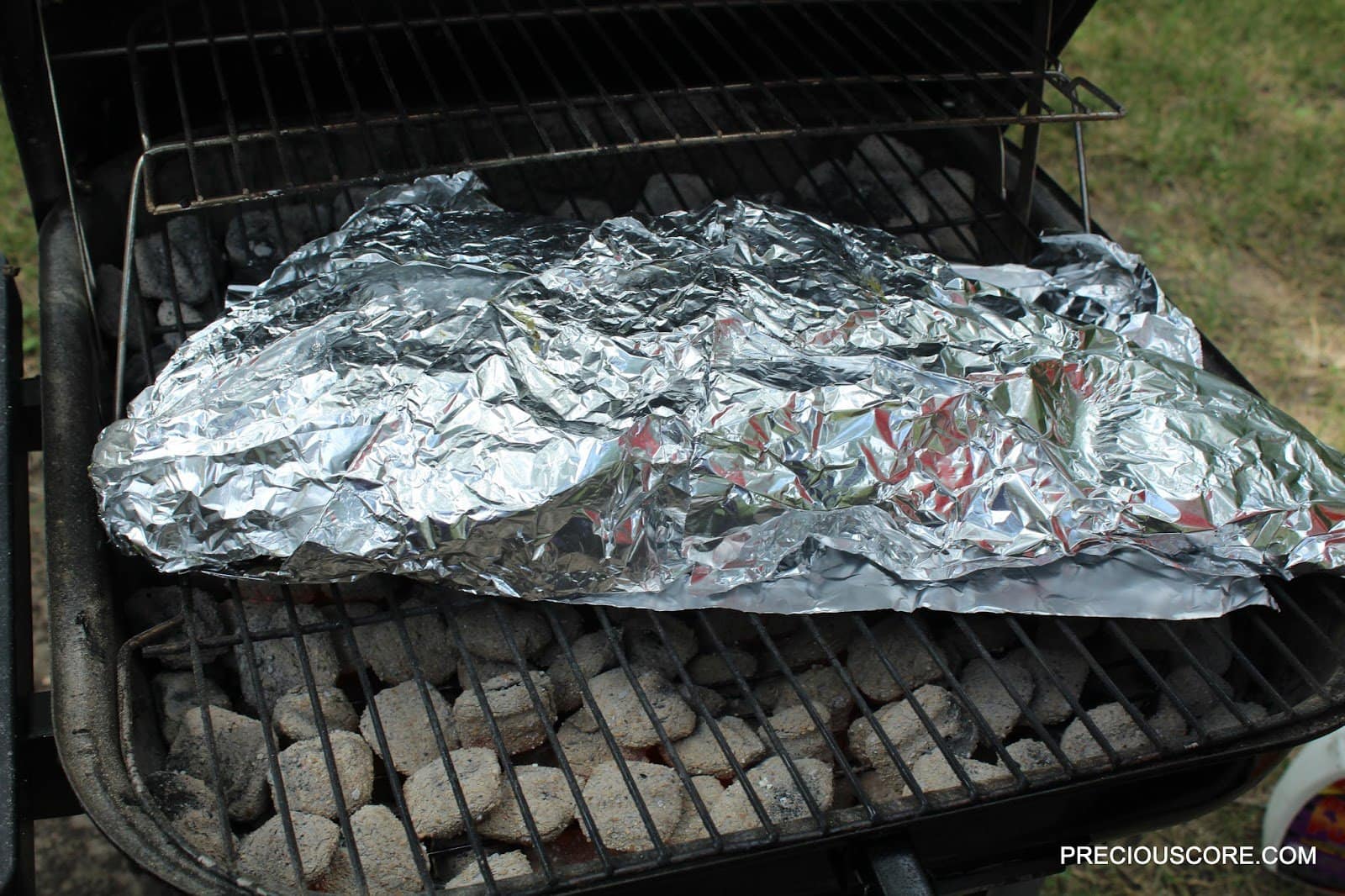 If your grill is a barbeque too, cover and let that cook for a good thirty minutes. Then take the foil off the fish and slather on some more marinade. Place the fish directly onto the grill.
When one side is slightly darkened, flip to the other side and let the same smoky grilling goodness happen. If you do not have a grill, use your oven to do the same thing. It may not be as blackened but it will still be ah-amazing.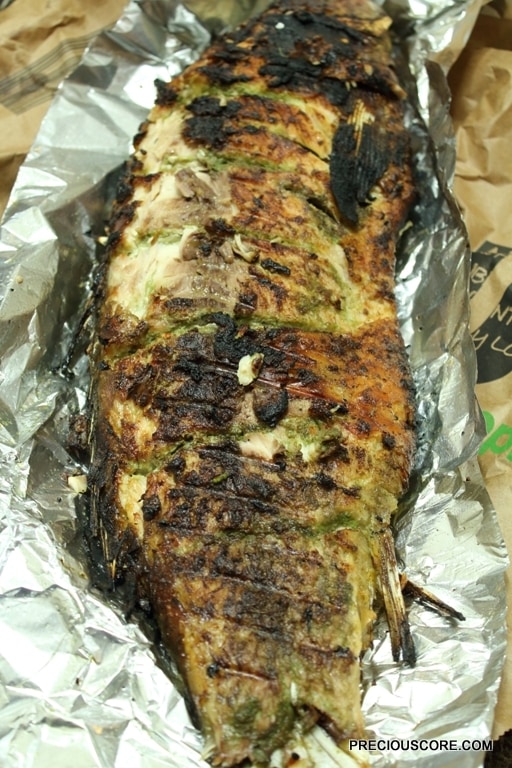 Mamamiya!
Garnish with some sliced onion and any other veggies you like. I added some bell peppers and cilantro.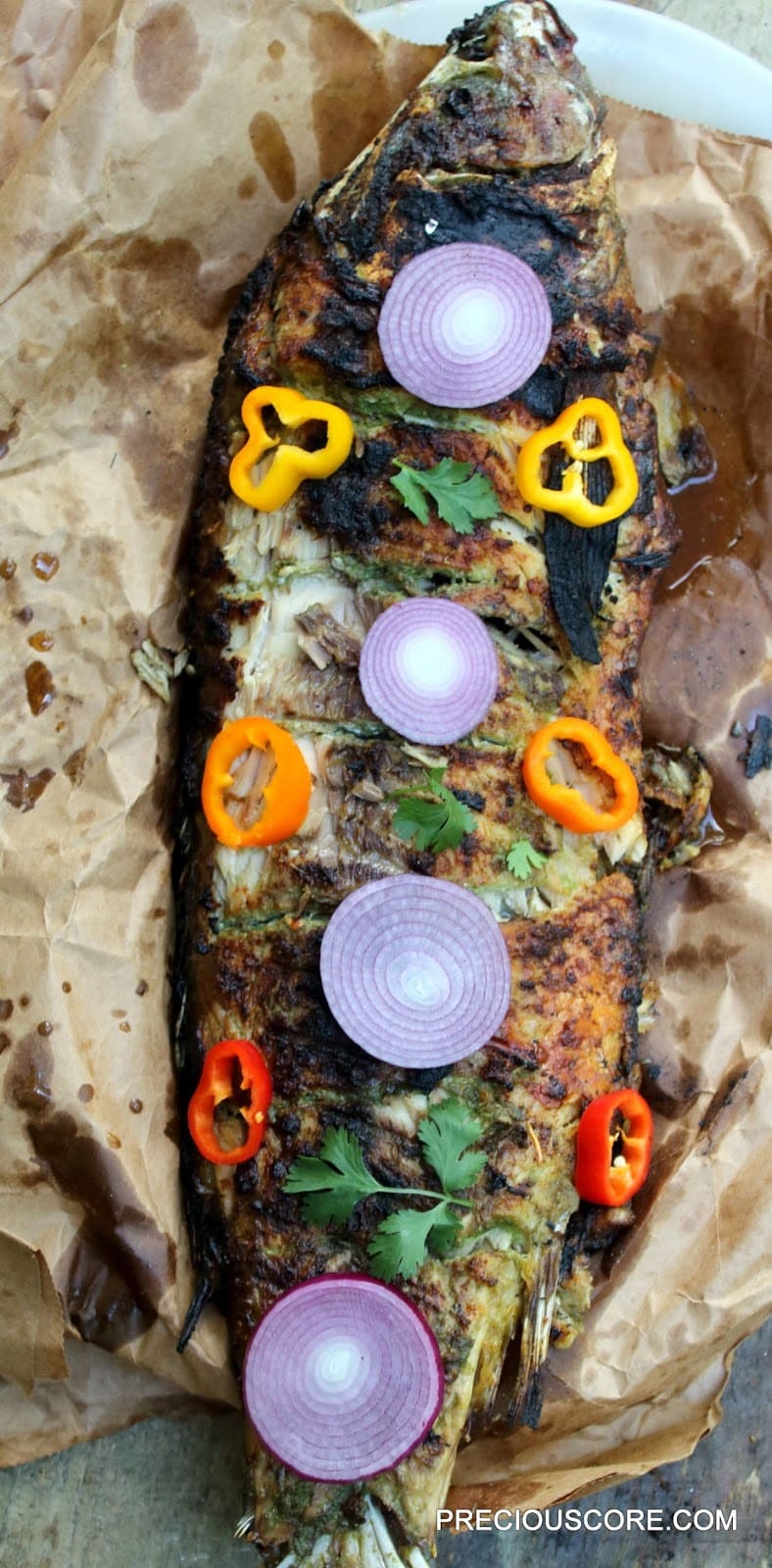 Big grilled fish for president!
Some fish recipes to garnish your fish-loving life:
Enjoy!