Looking for what to serve with roast duck? I have compiled a list of insanely delicious side dishes and appetizers to serve with roast duck.
These side dishes pair well with duck whether you are cooking for everyday dinners, Christmas, Thanksgiving, or special occasions.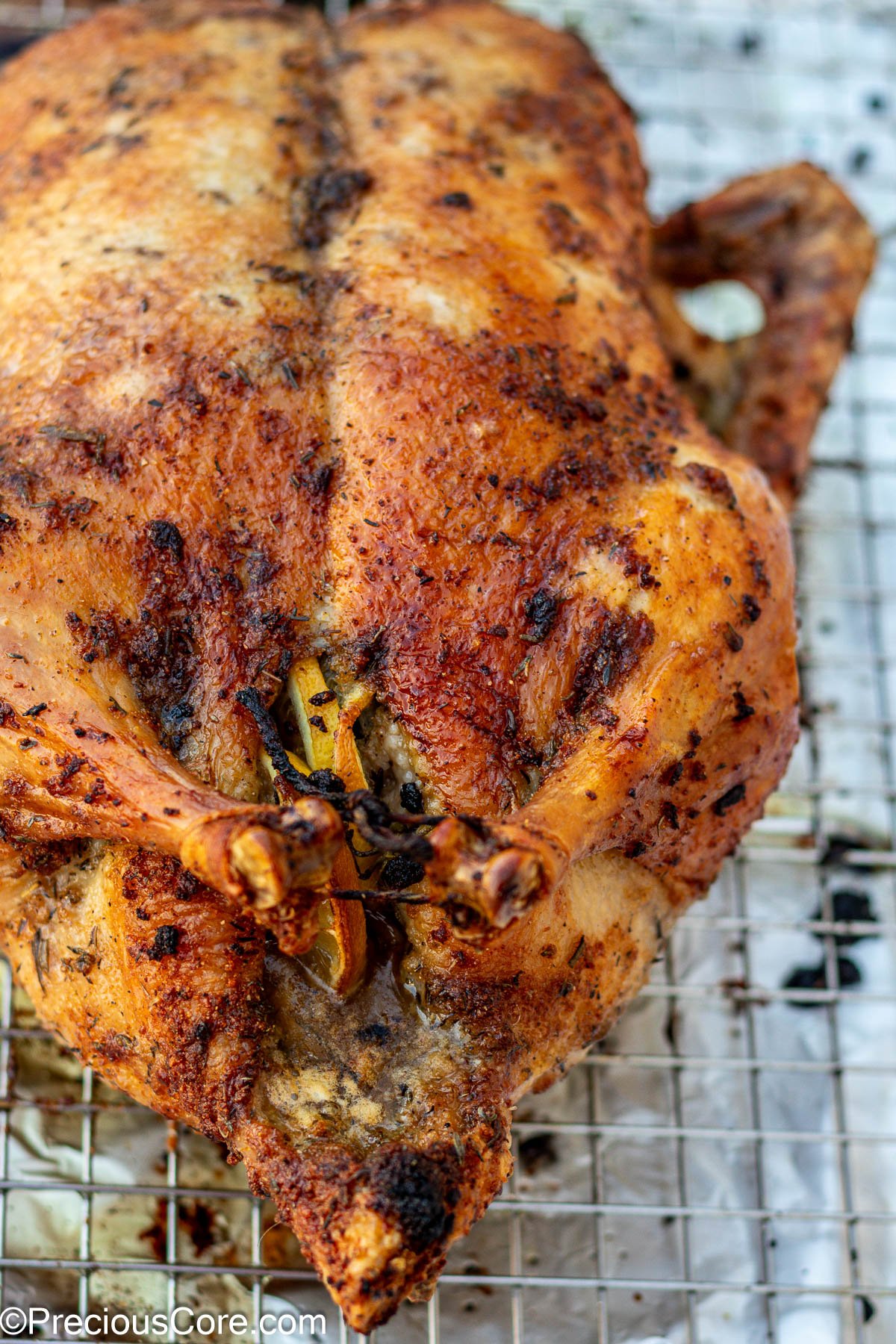 Duck meat is dark juicy meat and it is way more flavorful than chicken. The side dish recipes below are family-friendly and approachable, and they complement the rich taste of duck. These sides will go with roast duck in all forms whether it is whole roasted duck, roast duck breasts, or roasted duck legs.
If you want to make a memorable meal, make my Herb Roasted Duck or your favorite duck recipe. Duck is loaded with flavor due to its high-fat content, is juicy, and pairs well with a wide variety of side dishes.
From carb-y delights to vegetables, there are many sides that will complete your unforgettable duck dinner.
The finest side dishes to serve with roast duck include mashed potatoes, garlic butter green beans, sauteed vegetables, garlic herb rice, roasted potatoes, fried carrots, tomato cucumber salad, sweet fried plantains, and red cabbage slaw.
Here are over 17 side dishes to serve with roast duck:
1. Rosemary Garlic Mashed Potatoes
Swap lackluster mashed potatoes for herby, garlicky, and creamy Rosemary Mashed Potatoes. These mashed potatoes just scream holidays and they go well with duck for those special or everyday dinners. They are great to make ahead too, freeing up time to focus on other things.
2. Garlic Herb Rice
Say goodbye to plain Jane rice and hello to Garlic Herb Rice, which is bursting with flavor! This rice is well seasoned and goes well with meats and fish, including duck. The richness of the rice pairs well with the rich fatty taste of duck without being overpowering.
3. Sauteed Vegetables
Sauteed Vegetables are vegetables that are cooked in a skillet with a little oil and some seasoning. This side dish includes vegetables like Brussels sprouts, carrots, and yellow squash but you could always substitute with the vegetables you like or the ones in your fridge. The earthy vegetables are a great accompaniment to the rich taste of duck.
4. Fried Carrots
Fried Carrots are carrots pan-fried in a skillet with very little oil, resulting in tender carrots with crispy edges. The perfect side for any meal, including duck.
5. Tomato Cucumber Onion Salad
Tomato Cucumber Onion Salad just oozes freshness and texture. The acidity of the tomatoes breaks the fatty richness of the roast duck, resulting in a well-balanced meal. This salad is so good, it can be eaten on its own but it makes the excellent side for meats as well.
6. Garlic Butter Green Beans
Garlic Butter Green Beans are tender green beans enveloped in a garlicky buttery sauce, finished with a squeeze of lemon juice. When paired with duck, these green beans make a comforting dinner.
7. Deviled Eggs
Deviled Eggs make a pretty presentation served next to roast duck on the table. Adding acidic ingredients like capers, diced pickles, or olives to creamy deviled eggs will add more tang that contrasts the rich taste of duck.
8. Roasted Potatoes
Roasted Potatoes are one of the easiest side dishes to make with starchy potatoes. Made with pantry staples, you'll have these potatoes roasting in the oven in no time. Duck and potatoes in various forms were meant to be.
9. Steak Fried Rice
Steak Fried Rice is a fried rice recipe that is bursting with flavor from all the aromatics used. It not only looks good on the table but this festive-looking rice complements duck well.
10. African Pepper Sauce
African pepper sauce is spicy, and flavorful and greatly pairs well with meats like Garlic Butter Wings, Baked Dry Rub Chicken Wings, and of course, duck. This spicy, garlicky sauce provides just the right amount of heat without overwhelming your taste buds.
11. Coconut Rice
Enjoy a tropical-forward meal by pairing duck meat with this nutty coconut rice that also contains crunch from the added vegetables. This rice side is reminiscent of fancy beach restaurants but ridiculously easy to make at home.
12. Corn Avocado Salad
Corn Avocado Salad is a loaded salad filled with crunch, bright flavors, and freshness. This salad is bursting with sweetness from the corn, creaminess from the avocados, and crunch from the other veggies. All these tied together with a citrusy dressing will give dark juicy duck the fresh touch it needs.
13. Red Cabbage Slaw
Red Cabbage Slaw, dressed in a zesty vinaigrette brings a fresh, crunchy, and colorful element to your meal. The crunchiness of the vegetables added to duck creates a well-balanced meal.
14. Sweet Fried Plantains
Sweet fried plantains are crunchy around the edges, tender in the middle, sweet, and comforting. The sweetness of the plantains is a great complement to the savoriness of roast duck.
15. Roasted Baby Potatoes
Roasted baby potatoes are garlicky, herby, creamy in the middle, and tasty on their own. The potatoes are a great complement to dark juicy duck.
16. Mango Avocado Salsa
Mango Avocado Salsa is a light and refreshing side dish that brings crunch, color, and sweetness to your roast duck dinner. The sweetness of this salsa goes well with the flavorsomeness of duck.
17. Tostones (Twice-Fried Plantains)
Tostones or Twice Fried Plantains are plantains that are fried first to soften and then fried the second time to make them crispy. The crispiness and sweetness of the plantain are a great match to the juiciness, richness, and savoriness of duck.
Bonus side dish ideas that go with roast duck include:
Roast Duck Gravy: make a gravy out of the duck drippings to serve with duck.
Roasted Vegetables: Most roasted vegetables will pair well with duck. Try roasting together carrots and cauliflower with olive oil, salt, and pepper for a satisfying side.
Fruit Compote: If you would like a sweet side, serve duck with fruit compote.
Mashed Sweet Potatoes: The sweetness of the sweet potatoes will pair well with the savoriness of duck.